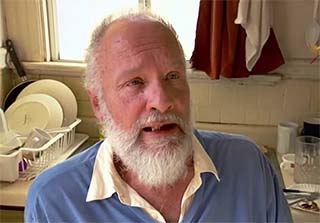 Mike Kuchar began making underground movies as a teenager with his twin brother George in the early 1950s. The pair's early movies straddled the line between homage and parody of old Hollywood melodramas and genre B-movies.
However, in the early '60s, the brothers recognized that their styles were leading them in different directions, so they began making films separately.
Mike's most well-known film is the classic 1964 sci-fi epic Sins of the Fleshapoids, which he followed with several other ambitious projects, such as The Secret of Wendel Samson and The Craven Sluck.
According to the documentary It Came From Kuchar, in the early '70s, Mike went on a trip to India and Nepal that inspired him to drastically change his filmmaking style. His films began to feature a single subject with whom Mike could "fall in love" and "possess" like he felt he could not in regular life. One of these subjects was the underground cartoonist Mike Diana.
After George passed away in 2011, Mike took over his brother's film teaching duties at the San Francisco Art Institute. The films he now makes with his students are more in line with his earlier solo work in the 1960s.
Mike's filmography below has been pieced together from the Underground Film Timeline, the Film-makers' Cooperative and the Video Data Bank. However, Mike has directed so many films, no filmography will probably ever be complete.