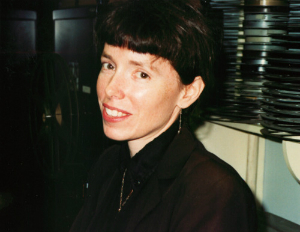 Leslie Thornton is an American experimental filmmaker, photographer and a pioneer in multi-media projection through her embrace of including video in her early work.
Born in 1951 in Knoxville, Tennessee, she received her BFA in 1973 at SUNY Buffalo and her MFA in 1976 at the Hartford Art School. She has been teaching media making since 1984 at Brown University.
Thornton has had an exceptionally unique career in that she has been associated with the early "structuralist" experimental filmmakers, such as Hollis Frampton and Paul Sharits; but she also studied documentary filmmaking with Richard Leacock and Ed Pincus; and has been aligned with modern experimental filmmakers like Craig Baldwin and Peggy Ahwesh.
Although Thornton has been making films since the early 1970s, she particularly came to prominence in the mid-1980s for her Peggy and Fred series, beginning with Peggy and Fred in Hell: The Prologue in 1985. This first entry in the series was shot on 16mm and included both original and found footage. Later entries would incorporate video, which initially Thornton would play on television monitors at synchronous moments with film projected on a main screen. The series would also become a multiscreen "environment" installation.
Thornton has received numerous awards for her work, including The Maya Deren Award for Lifetime Achievement in 1996, and the first Alpert Award in the Arts for media in 1995.