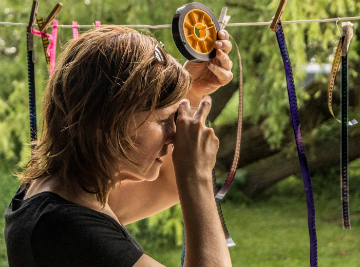 Cecilia Araneda is a Chilean-born/Canadian experimental filmmaker who works in both celluloid and digital mediums, but focuses primarily on analogue filmmaking techniques, such as filming with 16mm Bolex cameras, editing via flatbeds, employing optical printing, etc.
Born in Chile, Araneda came to Canada as child as a refugee and grew up in northern Manitoba. After studying playwriting (BFA – York University) and screenwriting (MFA – University of British Columbia), she has made numerous short films that are conventional narrative and documentary in nature or that are experimental hybrids of such.
In addition to her filmmaking, Araneda has been a strong promoter of other filmmakers' works, especially those from frequently overlooked social groups, such as indigenous filmmakers in Canada and women Latin American filmmakers. From 2006 to 2017, she served as the Executive Director of the Winnipeg Film Group and has been the first Executive Director of VUCAVU. In 2005, she co-founded the WNDX Festival of Moving Image and, in 2001, she was recognized by the Province of Manitoba as a woman media artist working for social change.
She is based in Winnipeg, Manitoba.