Swinging The Lambeth Walk — Len Lye
Swinging The Lambeth Walk by Len Lye (1939).
In 1939, as Britain waged war with Germany, filmmaker Len Lye stayed in London to work; and visited his pregnant wife Jane and their son Bix, who had evacuated the city to stay at a friend's farm in Scotland, on the weekends. According to Len Lye: A Biography by Roger Horrocks, Lye was too old (38) and recovering from an appendectomy to fight in the war. Struggling for money, Lye found a financial respite when the British Council for the Travel and Industrial Development Association agreed to sponsor a new film.
"The Lambeth Walk" was a dance that had become popular in England in 1937; and Lye's visualization of the song links "the drums with bouncing circles, the piano with a sprinkling of coloured dots and rectangles, and the string instruments with vibrating lines," as noted by Horrocks. The two thumbs-up images that bookend the film reference one of the dance's signature moves.
For his previous films, Lye had collaborated with experimental musician Jack Ellitt, but the two parted ways before production started on Swinging the Lambeth Walk, according to Jazz As Visual Language by Nicolas Pillai. For this new film, Lye recruited musicologist and composer Ernst Hermann Meyer, who edited together several different commercial recordings of "The Lambeth Walk," one of which includes a performance by Django Reinhardt.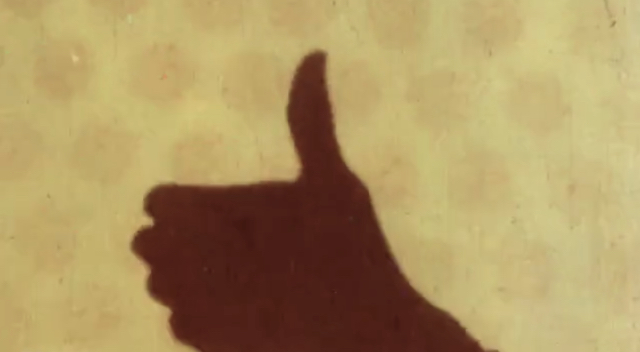 Swinging the Lambeth Walk was completed in 1939, but was not distributed until the next year. In 1940, the film was included in a retrospective of avant-garde animated films organized by New York's Museum of Modern Art Film Library. The screenings also included work by Mary Ellen Bute, Hans Richter, Man Ray, Marcel Duchamp, and others; as noted by Lovers of Cinema, edited by Jan-Christopher Horak.
The film opens with a title card that reads:
A TIDA FILM
"TIDA" is an acronym for the Travel and Industrial Development Association that sponsored the film. The film then begins with title cards starting about 24 seconds in that read:
SWINGING THE LAMBETH WALK
---
With A
Colour Accompaniment
By
Len Lye
Dufaycolor
(logo that reads RCA Ultra Violet and a line that is unreadable)
---
The film ends with a "THE END" title card.
Patrons can read an extra article on Len Lye on Patreon.com.