Support Salise Hughes' Charade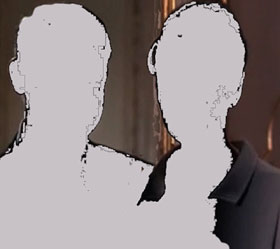 Salise Hughes is one of the modern masters of digitally manipulating and re-working found footage into new experimental narratives. Currently, she is raising funds for an ambitious new project to apply her wizardry to the classic 1963 thriller Charade, directed by Stanley Donen and starring Cary Grant and Audrey Hepburn.
Hughes is raising funds via the USA Funds website, which operates just like Kickstarter but is focused specifically for artists. She is offering several different rewards for donations, including a snazzy little flipbook version of her film Tidal Wave.
If you're interested in helping out on this project, please visit the USA Funds website. Hughes has also created a neat little video of some of her amazing previous work that you can watch below. You can also watch one of her earlier films, There Were Houses Here, on the Underground Film Journal.
Hughes' own description of the project:
Charade will be a short experimental film made of manipulated footage from the 1963 film Charade with Cary Grant and Audrey Hepburn. I'm interested in the core themes of the original film, identity and deception. The film is full of people who are not who they say they are, including the actors themselves. I've heard many stories of people who have changed their names, lied about their past and created new identities. The reasons for this kind of deception intrigues me and is why I want to make this film.

I began making manipulated found footage films in 2005. I started with aging educational films and eventually included Hollywood genres. The use of Hollywood films opened up issues of the artificial world that Hollywood represents. In the case of Charade, this would include the practice of studio actors changing their names, and creating new identities for themselves. This practice would add another role to play in addition to their movie roles.