Sunday — Dan Drasin
Sunday by Dan Drasin. Shot and completed in 1961.
According to the filmmaker, the film was shot entirely in 16mm B&W on April 9, 1961, capturing a protest made by folk singers in New York City's Washington Square Park that was challenged by police officers.
In 2008, the film was restored by the UCLA Film and Television Archive and is part of the permanent film collection at New York's Museum of Modern Art.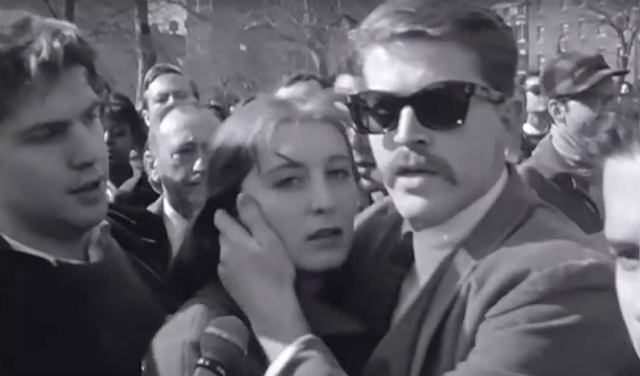 On May 25, 1961, the Village Voice published Jonas Mekas's "Movie Journal" column that included this review of Sunday:
Dan Drasin's Sunday is a report on the Washington Square police action against folk singers.

Drasin's spontaneous camera, zooming in and out and around, caught the riot that Sunday with an authenticity and aliveness that puts it head and shoulders above most of the reporting that is going on today in film and television. The main reason for this success — I am happy to say it –is that he turned his back on all the accepted techniques of our professionals in his use of camera and of sound. He lost the slickness but he gained truth and the dynamic of life, both in sound and image.
As the filmmaker notes, the film took three months to edit, but Mekas's review was written a little over a month after the police action, so the review is perhaps of a work-in-progress stage of the film.
Later, in 1964, Drasin was one of 12 recipients of a Ford Foundation grant, with which he was to make a fictional film and study abroad.
Sunday opens with a title card; then ends with the below credits. According to the filmmaker in an email to the Journal, the music copyright card was added later. The final film copyright card is also clearly from after the film's restoration.
filmmaker Dan Drasin
with Frances Stillman, Howard Milkin, Gerald E. McDermott, Frank Simon
music Dave Cohen, Jan Dorfman
"This Land is Your Land" by Woody Guthrie © by Ludlow Music, Inc., used under the American University Code of Best Practices in Fair Use for online Video
Copyright © 1961, 2009 by Daniel Drasin