Sundance & Slamdance: Off The Beaten Park City Path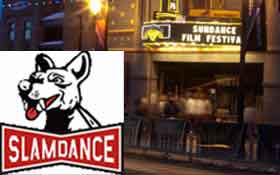 Both the Sundance and the Slamdance Film Festivals begin in Park City, Utah this week. While I previously posted up the full Slamdance lineup and some underground highlights at Sundance, I thought I'd round them up again for those attending the festivals who might be reading this and looking for the quirkier, out-of-the-hype screenings.
Sundance:
The first movie you don't want to miss at is After You Left, directed by Jef Taylor, which was recently reviewed on the Underground Film Journal. This easygoing, but emotionally complicated tale about a semi-immature dude in his mid-thirties dealing with a serious broken heart has a minimalist charm to it that makes it instantly likable. It's the kind of film that at first it may not seem like much is going on, but actually has a lot to say. Lead actor Michael Tisdale is really good in it, too. Exact screening info is on this page.
Documentary filmmaker Jessica Oreck and experimental filmmaker Kelly Sears have two films at Sundance that have both been produced for the 80-minute omnibus movie Orbit(film), organized by Mike Plante. Orbit(film) is a series of commissioned works that all deal with different aspects of our solar system.
Oreck has directed Venus, which examines the atmospheric composition of our sister planet; while Sears has directed Jupiter Elicius, about a disturbed meteorologist who has stormy dreams.
Venus and Jupiter Elicius are not screening together, but be sure to check both of them out. Venus screening info is here; while Jupiter Elicius info is here.
Jupiter Elicius is screening with several other short films that aren't to be missed, as well. This is the "New Frontiers Shorts" section that also includes superstar animator Martha Colburn's Triumph of the Wild and documentary filmmaker Jem Cohen's Anne Truitt, Working, a portrait of the late artist. Plus, the block contains Jonathan Caouette's All Flowers in Time and Francis Alys de Smedt and Julien Devaux's Tornado. This is the short film block that's not to be missed! Again, the exact screening info is here.
Lastly, the "Documentary Showcase I" short film block includes a film by Canadian experimental filmmaker Matthew Rankin. It's called Negativipeg, and features Rory Lepine recounting his infamous encounter with Burton Cummings, the lead singer of The Guess Who, outside a 7-11 in Winnipeg one night. Screening info for this film is here.
Slamdance:
Over at the Slamdance side of things, Greg Hanson, the director of the outrageous short film Thy Kill Be Done, has co-produced the feature film Beneath Contempt, a completely different kind of movie. Directed and written by Benjamin Brewer, Beneath Contempt is a serious drama about a young man who was sent to prison for killing his friends in a drunk driving accident. Having served his time, he returns to his hometown to deal with the after effects of grief. Screening info for this film is here.
Last, but not least, curator Noel Lawrence will present a collection of short films by the notorious J.X. Williams, the most dangerous director you've never heard of. Friend to the mafia, pornographers and Satan, Williams dazzles and delights with his absurdly twisted little morality plays. And, if you're wondering why nobody had ever heard of Mr. Williams until Mr. Lawrence came along, well, that's all we'll say about that. Screening info for this block is here.