Sundance 2011: Underground(ish) Short Films By Jef Taylor, Colburn, More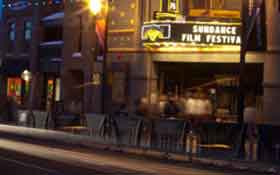 Out of 6,467 short film submissions — a record for the fest — the Sundance Film Festival has selected to screen 81 of them during its 2011 edition, which will run on Jan. 20-30. Out of those 81 short films, a handful have ties to the underground film world.
First, I want to offer special Underground Film Journal congratulations to filmmaker Jef Taylor, whose film After You Left — written by Taylor and Michael Tisdale — was one of those short films chosen.
Earlier this year, I reviewed Taylor's phenomenal, award-winning short film Coverage, so I was thrilled to hear another one of his more recent films got into Sundance. (I also hope to have a review of After You Left up around the time of the fest.)
Some other recognizable names from the underground film world include:
Martha Colburn: Legendary underground animator Martha Colburn is no stranger to Sundance and she has another film in the fest in 2011. Triumph of the Wild is made in her traditional, manic style of manipulating cut-out images and direct painting, this time to explore "the impulses of hunting and the resiliency of the people and animals in times of battle." What's really amazing about watching a Colburn film is that it's like watching her paint and animate live in front of your very eyes.
Matthew Rankin: The Canadian experimental filmmaker will be screening Negativipeg in Sundance's International Documentary short films section. The film retells the infamous story of Rory Lepine's encounter in a 7-11 in 1985 with Burton Cummings, the lead singer of The Guess Who.
Jem Cohen: Experimental documentarian Jem Cohen presents Anne Truitt, Working, a portrait of the minimalist painter and sculptor, filmed at her studio at the Yaddo artist colony and her home in Washington, D.C.
Kelly Sears: The collage animator will screen Jupiter Elicius, about a haunted meteorologist who has his bravado tested by "fast winds and high pressure systems."
Jessica Oreck: The director of the acclaimed feature-length documentary Beetle Queen Conquers Tokyo presents her latest short film Venus, described as: "Planets. Women. Sun. Heat. Time."