Spooky Movie Film Festival Presents Poultrygeist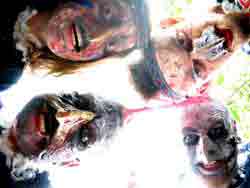 Washington, D.C.'s Spooky Movie Film Festival is launching their inaugural Midsummer Night's Scream screening series with Lloyd Kaufman's Poultrygeist: Night of the Chicken Dead. The film will be showing on July 17 at 6:30 p.m. at the Cinema Arts Theater at Fair City Mall in Fairfax, VA. Kaufman will be in attendance for a Q&A session afterward hosted by local horror fiend Count Gore De Vol. Also, preceding the feature film, will be four horror shorts from the festival: The Ancient Rite of Corey McGillis, Seekers, Eight Thirty-Two and The Marionette.
I'm not familiar with the shorts, but I just saw Poultrygeist the other day when it opened in L.A. and thought it was a real hoot. It's incredibly over-the-top disgusting with lots of corny humor, as well as some oddly subtle moments and some genuine surprises. Plus, I saw it at a matinee where there was only about five other people in attendance, but I think the film would play great with a large appreciative audience. I highly recommend this screening, and bring lots of friends. Kaufman is also great in person, so you need to see him in his element.
This is also the first I've heard of the Spooky Movie Film Festival, but it sounds like a great festival headed up by underground filmmaker Curtis Prather. They're heading into their third year this fall and the fest will run Oct. 16-19. If you want to submit, the Call for Entries is open through most of the summer. They're looking for shorts and features as well as horror documentaries, experimental work, etc. The first deadline just passed, but here are the ones coming up:
Regular Deadline:
July 3
$30
WAB discount: $20
Late Deadline:
August 1
$35
WAB discount: $25
Extended Deadline:
August 22
$45
WAB discount: $30
Go to Spooky Movie's submission page for more info, or go to Without a Box to submit there and get the discounted entry fee.
Also, the festival, along with Rudderpost Films, are putting out two DVDs this summer. Festival of Horrors: Volume One and Two will feature fourteen short films (seven on each disc) and are hosted by Count Gore De Vol. The four shorts preceding Poultrygeist will all be available on these discs.
Here's the Poultrygeist screening info one more time and the trailer below:
July 17
6:30 p.m.
Cinema Arts Theater at the Fair City Mall
Fairfax, VA
$12
Watch the Poultrygeist trailer: