2006 SouthSide Film Festival: June 15 – 18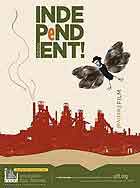 The SouthSide Film Festival doesn't quite qualify as an underground film festival, but I'm listing it for two reasons: 1) They have quite a diverse lineup, including films that have played at other underground fests; and 2) I have a soft spot for a film festival held in Bethlehem, PA since I lived in Pennsylvania for a time and my brother lived in Bethlehem for many years.
The SSFF is a part of the SouthSide Film Institute that helps promote indie filmmakers in Pennsylvania's Lehigh Valley. (It's called SouthSide because they're located on the south side of Bethlehem.) From their mission statement:
Our goal is to establish communications between all levels of interest and involvement in the cinematic arts. We will provide educational seminars, workshops and opportunities to screen works both publicly and for private critical evaluation.
And the festival each year picks both a cultural and a genre focus. For 2006, the cultural focus is Eastern European and the genre focus is animation, so they're showing films by Jan Svankmajer (Faust) and selected shorts by the Brothers Quay. Seeing films by these three filmmakers sounds like worth a trip to the fest in and of itself.
Other films in their lineup that stand out to me are:
1) Rejected and Billy's Balloon by Don Hertzfeldt. Rejected was nominated for an Academy Award in 2001 and I saw it that year at the New York Underground Film Festival. I haven't seen Billy's Balloon, but I'm sure it's brilliant, too.
2) Fumi and the Bad Luck Foot, for which David Chai won the Best Director award at this year's New Haven Underground Film Festival.
3) Moongirl by Henry Selick won an Honorable Mention at the last ever Tribeca Underground Film Festival (they're now called the BE Film Underground Fest).
4) The Other Side, a documentary about U.S./Mexico border relations by Bill Brown, played at both the Brooklyn Underground Film Festival and was the closing night film at this year's PDX Fest.
5) Zombie-American is a mockumentary written by and starring Daily Show correspondent Ed Helms, who also did the music.
From my count SSFF is showing over 90 films. That's a lot in four days.
For more info, visit the SSFF official site, including low cost dorm housing at nearby Lehigh University for visiting filmmakers.