Solving The Mystery Of Underground Films' White Dots!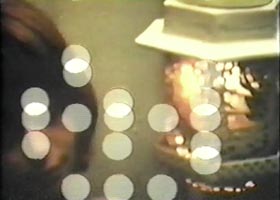 If you're like us at the Underground Film Journal and you watch a lot of older underground films, you've probably seen them. Maybe you wondered what they were. Maybe you pondered their significance and impact on the film you saw them in.
Were they inserted intentionally? Are they essential to the film's themes and metaphors? Or are they aberrations that were left in for economy's sake? Is their sequence random and arbitrary? Or is there a hidden meaning behind them?
They are, for lack of a better term, the mysterious white dots!
An example of which is above, a film still from George Kuchar's 1966 masterpiece Hold Me While I'm Naked. The movie tells the story of a lonely filmmaker (Kuchar himself) who is abandoned by his beautiful lead actress (Donna Kerness) in the middle of production of his latest project. Although a fictional film, much of it is based on true events and seems to express Kuchar's genuine emotional state.
But, any analysis of the film is irrelevant to the appearance of the white dots…
So, anyway, at about seven or eight minutes into the movie, the actress has just delivered her devastating news over the telephone and, intercutting between the two principals, the white dots temporarily flash over Kerness' face as she appears listless and forlorn over her decision.
This abrupt appearance of the white dots during a recent re-viewing of this masterpiece inspired the Underground Film Journal to once and for all get to the bottom of their origin.
(At this point we realize that perhaps the secret origin of the white dots is obvious to many and/or most of the Underground Film Journal readers, a good deal of whom are filmmakers or some other sort of worker in the film industry. On the other hand, it took us a few people to get to our definitive answer, so perhaps we are providing some sort of valuable public service here…)
The first expert whom the Underground Film Journal turned to was filmmaker and professional film editor Don Swaynos, who seemed like an obvious choice due to his intentional use of the white dots in his music video for "Waiting" by the band Love at 20. The video is a masterful homage to the films of Andy Warhol — including multiple appearances by the infamous dots! You can even see them in the freeze-framed promotional still. (Don further blew us away when he described his process of transferring the dots from some public domain footage into his own video.)
While Don did not provide a definitive answer, he led us on the right track thinking these dots must appear somewhere at the end of a reel of film, perhaps signifying that the end is near. But why large, obscuring white dots?
So, our next expert was J.J. Murphy who, strangely enough, offered another Warhol connection as he recently wrote the amazing, definitive analysis of the artist's films, The Black Hole of the Camera: The Films of Andy Warhol, truly a "must" read if there ever was one.
Although Murphy is a fabulous writer he's also made several acclaimed experimental movies himself, such as 1974's Print Generation in which a one-minute piece of film is re-photographed over fifty times, completely abstracting the original footage.
J.J. — who would eventually lead us to our final answer — initially just added one more piece of the puzzle. He told us that somehow the dots communicated the type of emulsion and batch number of the stock of film being processed. But how? A couple lab people he queried on our behalf said they simply referred to the dots as "perforations," meaning that there was no significant term by which to call these white dots. Therefore, that's all they are: White dots.
But after our exchange with J.J., we slapped our forehead in a moment of stunning realization. Heck, we know a lab person!
Several months ago, Laura Major of Colorlab in Rockville, MD helped us out identifying some of the footage of the films of Jack Smith — another Warhol connection! — seen in an online preview of a show held at the Microscope Gallery in Brooklyn, NY. We were sure she could help, so we shot off an email.
Laura very helpfully confirmed what we knew so far: The white dots do indeed appear at the tail end of a film and do indicate the emulsion and batch number of the film stock. However, she also provided the biggest piece of our puzzling mystery:
The white dots are not just random white dots punched into the film! The dots are actually, according to Laura, "punched out in the shape of numbers and letters that match the batch & emulsion number on the box of can of film."
While that description allows us to form a decent mental picture of what these dots look like as they are punched out into an actual film strip, we were finally given our absolute, definitive solution to our mystery by a colleague of J.J. Murphy's.
Erik Gunneson is a Faculty Associate at the University of Wisconsin-Madison, where J.J. is a professor. Erik is also a filmmaker and, coincidentally enough, just as we were getting knee deep into our mystery, he was packing up some film equipment where he came across an empty 400′ can of 16mm film. The only thing inside the can was a tiny strip of film taped to the inside of the lid. Erik hastily snapped a picture of it and sent it our way.
And that tiny strip of film looked like this: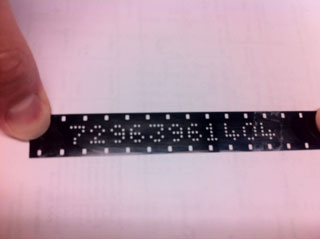 Thank you for the picture, Erik! Mystery solved at last! That's what our mysterious white dots look like unprojected!
As Erik further explained to us, the film was a can of Kodak's 7296 16mm stock, which leaves us to assume that the "3961404" part of the code was the film's batch number. The film that had been in the can was shot by Erik as part of a test to determine if the stock was still good. (Unfortunately, he would learn, it wasn't. He would eventually end up using a 7298 stock for the project the test was being run for.)
Also, Erik's test would have been shot sometime around 1994-5. Alas, there were no dates on the can to determine the exact dates it was shot.
According to this Wikipedia page, the 7296 was a color negative 16mm film that was only in production from 1989 to 1995. Perhaps it failed Erik's test since it was out of date. (The 7298 was in production from 1994 to 2003.)
As for why the dots would appear in the finished movies by filmmakers such as George Kuchar and Andy Warhol, well, when you're working on a no-budget production, every frame of film becomes important, even the ones obscured by giant white dots. Plus, the dots are almost like a badge of honor, shining a spotlight on the actual mode of film production, much like one can see splicing tape marks on films from that same era.
Finally, what's the real point of solving our little mystery? While, yes, we're glad we found our answer, but it was more fun coming up with a hare-brained excuse to call upon the Underground Film Journal's network of friends and engage in a little harmless diversion. What is underground film other than a like-minded community of creative folks engaged in an active and complex artistic process? And when you need to solve a problem, there are that community will come together and help you out without a second thought.
So, a massive, heartfelt "Thank You!!!" goes out to our experts who went above and beyond the call of duty: Don Swaynos, J.J. Murphy, Laura Major and Erik Gunneson. It really means a lot to us.