Sneak Preview: Treasures VI: Next Wave Avant-Garde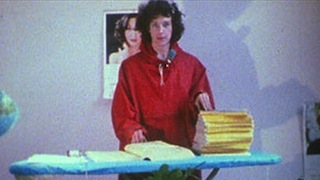 On November 18 at the Academy Film Archive in Hollywood, California, Jeff Lambert of the National Film Preservation Foundation presented a selection of experimental films that will be included on the upcoming DVD box set Treasures VI: Next Wave Avant-Garde.
A follow-up to the hugely popular Treasures IV box set, which was released in 2009, the new Treasures VI will focus primarily on the so-called "second wave" of avant-garde filmmakers of the '70s and '80s, many of whom were taught and influenced by the "first wave" of filmmakers found on Treasures IV. As such, Treasures VI will include work by lesser known and appreciated filmmakers from a typically overlooked period in underground film history.
Lambert announced at the event that Treasures VI will include 33 films by 28 filmmakers, then proceded to screen six of those films. Those six were:
A Trip to Indiana, dir. Curt McDowell and Ted Davis
Plumb Line, dir. Carolee Schneemann
Radio Adios, dir. Henry Hills
11 Through 12, dir. Andrea Callard
Report, dir. Bruce Conner
HiFi Cadets, dir. Lewis Klahr
A few remarks on those films:
The version of A Trip to Indiana that was screened was the second 16mm version of the film, which was produced by McDowell by projecting the original 8mm version of A Trip to Indiana and filming that projection with a 16mm camera. The result being that many times during the 16mm version, the projector and camera speeds go into synch, creating an intense flickering of the images. The Treasures VI set will include both versions of the film, which is a hilarious combination of home movie footage with McDowell, speaking like a child, being interviewed by Davis, as a grumpy old man, about the relatives seen on the screen.
Plumb Line is an extremely interesting experiment in which 8mm film images are mirrored against each other on a single 16mm strip, telling the story almost completely visually of a failed relationship between Schneemann and a lover. A still from Plumb Line can be seen on the right.
Radio Adios is an intensely edited piece in which several poets, writers and filmmaker George Kuchar provide monologue rants delivered to the camera that Hills then recuts into a rapid-fire spoken word performance. While all the writers basically deliver their monologues as themselves, Kuchar is particularly hysterical playing the part of a Maoist revolutionary calling for war.
11 Through 12 is a comedic film starring Callard mocking life in NYC and delivering in-jokes directed at her fellow filmmakers. Callard, who attended the screening, described that most of her films made in the late '70s were simply projected at her apartment for her friends and collaborators, many of whom belonged to the influential artists organization Collaborative Projects, aka Colab. A still from 11 Through 12 can be seen at the top of this article.
Report is, of course, Bruce Conner's iconic underground film mixing actual radio reports of President Kennedy's assassination with remixed black and white footage of the president and first lady on their fateful trip to Dallas, as well as of Kennedy's Washington, D.C., funeral procession.
Lastly, HiFi Cadets is the second film in Lewis Klahr's 12-part series "Tales From the Future" and, like Report, features President Kennedy, but this time in Klahr's cut-out animation style wherein the president visits a jazz bar and gets drunk. Klahr, who was also at the screening, described the genesis of the film being his sighting of a pregnant Caroline Kennedy on the streets of NYC. The filmmaker, along with the Academy's Mark Toscano who worked on the film's restoration, discussed the unique challenges of restoring HiFi Cadets, originally produced on 8mm, but having a better "look" after it was transferred to video. A still from HiFi Cadets can be seen on the right.
While all the restored films looked absolutely beautiful projected in the Academy of Motion Picture Arts and Science's exquisite Linwood Dunn theater in Hollywood, Lambert said that the Treasures VI: Next Wave Avant-Garde DVD box set will not be released until late next year. Also, an announcement of the full contents of the set will be released much later, which we will post on the Underground Film Journal as soon as we receive it.
The November 8 event at the Academy was an extremely exciting one featuring an exceptional selection of films, making the release of Treasures VI all that much more greatly anticipated.