Slippery Jim — Ferdinand Zecca
Slippery Jim by Ferdinand Zecca. The completion/release year of Slippery Jim varies among sources.
The catalog for the 1947 Art in Cinema program dates the film as circa 1906. However, Richard Abel, a silent movie historian, gives two dates for the film. First, in his The Ciné Goes to Town: French Cinema, 1896-1914 (published 1998), Abel places the film in 1910 citing a Motion Picture World magazine article and a Pathé World Bulletin, both published in October 1910.
Later, Abel places the film in 1908-1909 in his Encyclopedia of Early Cinema (published 2010). Most online sources claim a definitive year as 1910 without sourcing the origin of that date, but perhaps it began with The Ciné Goes to Town.
The original source of the above bootlegged version of the film is unknown, as well.
Although this is a French film, the opening title card calls the film Slippery Jim, perhaps for its U.S. release. The title card also credits the production company that Zecca was working for at the time, Pathé fréres. A closing credit screen only says TRADE MARK Pathé Fréres. (Note that the opening credits has "fréres" with a lower case "f" while the final card has "Fréres" with a capital "F".)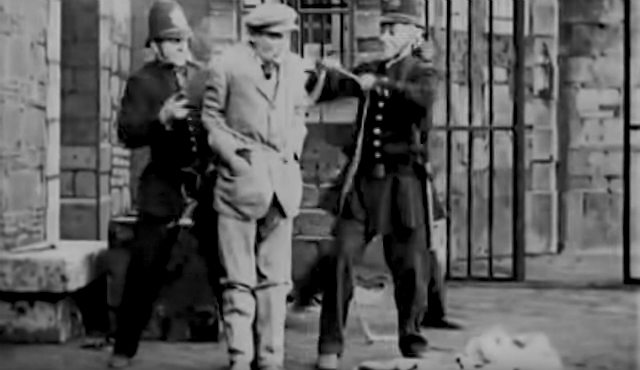 The Encyclopedia of Early Cinema credits Slippery Jim's special effects to Segundo de Chomón, a Spanish filmmaker who relocated to Paris in 1905, and gives the film's French title as Jim le glisseur.
Art in Cinema screened several of Zecca's films, calling him "a comic master of the impossible." The prints screened were on loan from the Museum of Modern Art Film Library, and the program booklet wrote of this particular film: "In subjects like Slippery Jim, Zecca combined the impish humor with a gift for making the camera persistently defeat or pervert the laws of space, time, gravity and ordered reason." The notes on Zecca were written by Iris Barry and reprinted from Film Notes by permission of the copyright owners: The Museum of Modern Art, New York.)
Most websites will claim that Zecca was inspired to make Slippery Jim after reading stories he read in the newspaper about Harry Houdini, but the origin of that claim is unknown.
Lastly, and this is most likely a total coincidence, but the nickname of the main character in the TV series Better Call Saul is "Slippin' Jimmy," which is fairly close to Slippery Jim.