Short Film: Skip Battaglia's Parataxis
Embedded above is the 1980 short film Parataxis by Rochester, NY-based animator Skip Battaglia. This structuralist film reimagines the same scenario — a man checking out a cute chick in a department store — with different reshufflings of the order of the exact memory of the event. As Skip notes, Parataxis is considered the first xerographically animated film produced on a Xerox 6500 Color Copier on paper. While it's a fascinating technique executed imaginatively, I want to discuss something else:
Skip was one of my film professors at the Rochester Institute of Technology (1988 – 1992) and had a phenomenally huge impact on my life. While my life and career didn't go in the direction of creating films, Skip really instilled and inspired in me new ways of looking at the world differently. He had a way of looking at your footage and, while seeing and appreciating it for what it was and what you were trying to do with it, he was able to make connections that you had either done unintentionally or just didn't know what was in your own work.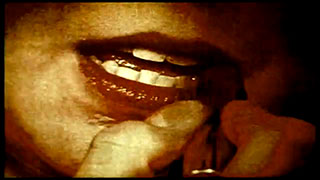 At RIT, our film education was centered around the idea that students were being groomed to be able to get "real" jobs in the movie industry. We didn't learn about the "underground," and while I remember hearing about Michael Snow's Wavelength, for example, in a classroom, we weren't really specifically taught things like structuralism. But, certain ideas about the avant-garde and the experimental leaked in thanks to having professors like Skip and Howard Lester, whom I wrote about previously.
I studied up a little bit about the underground on my own, although my engagement with it was very limited. Luckily, I was able to see things like Scorpio Rising and Sins of the Fleshapoids and Meshes of the Afternoon on my own at the Dryden Theater at the George Eastman House. I always ended up going to those screenings alone with very small audiences. That time, though, set the seed for what was to come.
I'm fairly certain Skip showed us Parataxis in class because the film seemed somewhat familiar when I watched it again on Vimeo. However, that could be my faulty memory. I always loved it when Skip showed his films or I could catch one at a screening around town. Parataxis is in many ways very different from Skip's traditionally animated films of full drawings on paper, yet still familiar of his overall work.
Skip has started putting his work online and you can check out more of it at Vimeo. He also has his own website with links to DVDs of his work. He's also still teaching at RIT and, I'm sure, still inspiring his students to open up their imaginations.