Should The Underground Attack The Mainstream?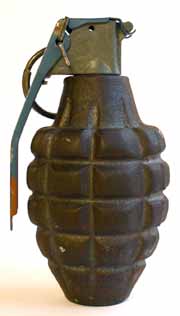 Back in the '60s when Jonas Mekas was writing his insanely influential Movie Journal column for the Village Voice, he would write about the coming underground film "revolution" a lot. Eventually, audiences would wake up and flock to the New American Cinema, as Mekas called it then, in droves and avant-garde and experimental cinema would screen regularly at all movie theaters.
Of course, this type of attitude fit in perfectly with the counter-cultural zeitgeist at the time. Plus, it was good to have such an enthusiastic promoter in a well-respected, upstart publication. Mekas' attitude influenced numerous young creative types to either pick up a camera in the first place, like Robert Downey Sr., or encouraged others to grow their ambitions, like John Waters.
But, clearly, that revolution never came. Movie Journal died and nothing replaced it. And the underground became more academic and art world oriented to survive.
Then, somewhat ironically, the next major underground call to revolution was the Cinema of Transgression's rebuke to the dreary film academics.
However, every once in awhile, one comes across a young filmmaker or a filmmaking collective railing against the mainstream in the manner of Mekas, although of course not quite as eloquently. These upstarts — and I use that word as a descriptor, not a pejorative — write and speak of "the masses" as being tranquilized by mainstream and need to be shaken or woken up by alternative media.
Personally, although I'm a huge fan of Movie Journal and Mekas' writing style, I purposely avoid trying to mimic his tone on the Underground Film Journal. The main reason being that I'm perfectly fine with mainstream media, as anyone who has seen my occasional tweets about the Real Housewives franchise may have noticed. But, also, I don't feel that any talk of an underground revolution serves any constructive purpose. It ain't gonna happen.
We have historical perspective. We see how culture trends. We've seen actual media revolutions and can figure out why they happened, which is more than likely they're tied to economic concerns. So, or me, that's more of a main concern than "beating" the mainstream with subject matter and style.
The reason I keep flogging the same films and filmmakers to death is that slowly, but surely, over the past five years I've been doing this thing, the Underground Film Journal's daily visitors continues to grow. More and more folks have the opportunity to come into the fold and be exposed to something avant-garde and experimental and cult-ish — and I want them to spend their money on it, whether it's buying a DVD or renting on Netflix or watching online and generally just creating demand.
Again, from a historical perspective, this seems like a fool's errand. The underground isn't the place to go for those involved in film — whether it's producing it, screening it or writing about it — to make money.
However, we're in a unique place in history where, with the internet, underground film has the opportunity to reach more audiences than ever. But, what's more unique about the internet, is that underground film history has been marked by fits and starts. As I said above, when Movie Journal died nothing rose to take its place, mainly because where else could it go?
With the internet, we are at last afforded a continuous history. (And have the opportunity to at last fill in the past gaps.)
So, when the revolution doesn't come — and it won't — we don't have to let our dreams, our goals and our history to die out. To "win" a culture war, we just have to keep plugging away to grow the fold and not have to tear anything down.