Short Horror Movie: Night Of The Hell Hamsters
Hell hath no fury like a hamster possessed! Or something like that. For those thinking, based on the title alone, that Paul Campion's short film Night of the Hell Hamsters is some sort of horror movie spoof, think again. This clever, scary and gross piece of work is the real deal, a true blood horror flick about tiny little creatures that inflect some major mayhem when they become possessed by a demon. It's a true horror original. Watch the entire 15-minute film embedded above.
I've written about this film a couple of times over the years. What appeals to me the most is that there's something very classic about the look and the plot, but it's a totally original, modern idea. Plus, I'm starting to realize how much I appreciate smart, intelligent, well-written horror. Possessed hamsters is an innately goofy premise, but Campion — who co-wrote the film himself along with Hadyn Green and Mike Roseingrave — really thought through and executed the premise logically. Also, it's just a damn fun short film.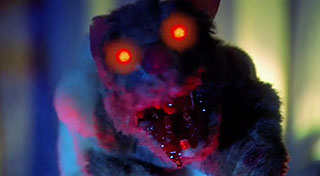 I first reviewed Night of the Hell Hamsters back in 2008 in a batch of screeners given to me by the Spooky Movie Film Festival. Then, Spooky Movie included it on their Festival of Horrors DVD compilation, which is a great disc that I highly recommend hunting down and watching. And, you know, it's Spooky Movie that traditionally turns me on to my favorite horror films — both features and shorts — every year.
Paul Campion has both an official website and a Vimeo channel to check out. Another film of his, Eel Girl, was another big hit on the fest circuit a few years ago that's also on Vimeo that I hope to watch soon myself. Also, he's a special effects guy who's worked on big budget horror movies like Constantine and 30 Days of Night, as well as blockbusters like the Lord of the Rings trilogy and Clash of the Titans. And he's working on his own feature film The Devil's Rock. This is a guy to look out for.