Short Horror Movie: Excision
All good parents want to encourage their kids' hopes, dreams and aspirations. However, when your daughter is obsessed with performing surgeries without a medical license, that might be a dream you want to quash. In Richard Bates Jr.'s spectacularly unsettling short horror movie Excision, Pauline (Tessa Ferrer) is your typical rebellious, moody teenager, but instead of getting high or having sex, she prefers wielding a scalpel and a retractor. And, if you don't happen to be a doctor and don't know what a retractor does, well, watch the film to find out…
There are lots of elements that make Excision so effectively creepy and disturbing, from the grotesque premise to Bates' tight script to the outlandish fantasy sequences contrasted with the mundanity of suburbia. However, the true heart and soul of the film — or should that be heart and guts — is the fully committed and twisted performance by star Tessa Ferrer as the disturbed Pauline.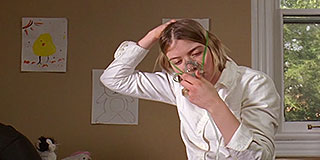 Ferrer actually comes from Hollywood royalty. Her mother is Debby Boone, daughter of singer Pat Boone, and her father is Gabriel Ferrer, son of José Ferrer and Rosemary Clooney. According to the Excision movie site, Tessa has gone on tour performing with both her mom and grandmother. However, any trace that she comes from such an extravagant background is totally abandoned. Ferrer gives an incredibly down-to-earth, believable performance of an emotionally confused suburban teen.
What's particularly nice about the film is that despite Pauline's outlandish obsession, Bates' script really taps into solid emotional family dynamics, particularly in the relationship between Pauline, her mom (Karen Tiegren) and her sickly younger sister Grace (Carly Hobson). Remove Excision's horror elements and there's still a powerful drama about a mother neglecting her older daughter and overly doting on her youngest.
Yet, with the young Grace suffering from lung failure, Pauline can't fully lash out from the lack of affection. Therefore, her inner rage from a lack of intimacy is channeled into inappropriate activities. It's as if the absence of an emotional connection with her mom has been twisted into an obsession with physical existence.
A traditional drama may have had a similar main character become involved with an unsuitable boyfriend. But, since he decided to make a horror movie, Bates gives Pauline an erotic attachment with blood, fantasizing that she's a modern Elizabeth Bathory.
I originally watched and wrote a brief review of this film when it played at the 2008 Spooky Movie Film Festival. The film then won a Special Jury Prize at the 2009 Boston Underground Film Festival.
You can read more about the movie at its official website.