Short Film: There Were Houses Here
Hurricane Katrina hit New Orleans nearly six years ago, but images of the devastation caused by the failed levees that flattened parts of the city are still heartbreaking. The ruins are poignantly and emotionally displayed in Salise Hughes' There Were Houses Here, embedded above. Mostly, the destroyed homes pass by without commentary, but Hughes' slight tweaking reminds us of something even more important: There were people here, too.
Hughes is mostly known for applying new animation on top of found and original footage. In There Were Houses Here, her tinkering is modest. She mostly lets the passing landscape speak for itself — from the lone wheelchair sitting in the middle of a sidewalk to a school bus crashed into a large structure — but every once in awhile she inserts animation of people standing or walking across the frame.
However, these bodies she inserts are just silhouettes filled with other images of lapping water. These figures serve to remind us of the people who were washed away from their homes, either literally or just chased away by the flooding damage. We expect to see people hanging out in neighborhoods, but Hughes has to supply them for us in this case.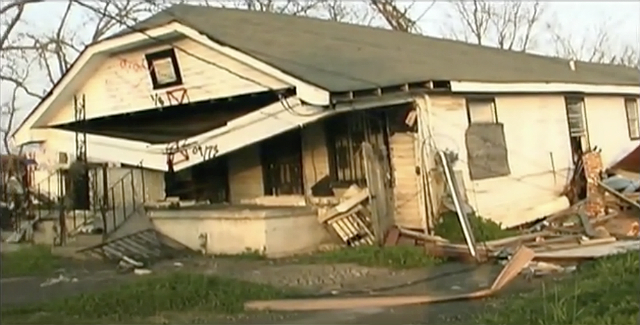 There are a few actual people in the film. One is an older man painting a shutter on a ruined home. The window is spray painted with the markings to indicate whether or not a dead body was found in the house. The modest painting seems futile, but hopeful at the same time.
In another scene, a team of workers wearing breathing masks and hazmat outfits try to fix up another home. Faintly, in the background, you can hear one of them singing the intro to "Old Man River," either ironic or purposeful given the reason why these workers need to fix this house.
Hughes' work has a very meditative quality to it. In addition to There Were Houses Here, she has also uploaded to Vimeo three other short films that make up a touring program of the filmmaker's work entitled "Recycled Visions." You can watch those films here.
To learn more about Salise Hughes, she has also recently started a new blog.