Short Film: Runts
Part experimental film, part horror movie, Runts by Lori Felker and Jeffrey Schreckengost is one hell of a sick and disturbing nightmare. Told almost entirely with baby dolls, a pair of conjoined twins are separated and cast out into the world where they do terrible things to each other, including morbid mutilation and incest. Filmed with in dark sepia tones with jumpy editing and a nerve-jangling soundtrack, Runts is an unnerving piece of work.
Although I've been known in the past to read religious imagery into films that the filmmaker didn't intend, I can't help but see some sort of Garden of Eden connection in Runts. A man and a woman are born of the same parentage and cast out into the unknown. And if Adam and Eve both had the same father, wouldn't their coupling be an incestuous union? Plus, the unpleasant birth somehow makes me think of the birth of Cain, although I don't think that's in the Book of Genesis, at least the version I read by R. Crumb.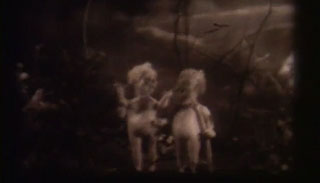 In addition to the Bible, the other thing Runts reminds me of is the cult horror film Basket Case by Frank Henenlotter, another movie about conjoined twins ripped asunder. Although the two babies of Runts look perfectly normal except for their connective tissue — unlike Henenlotter's grotesque Belial — the one twin mutilates the other, in effect making it deformed looking. Plus, the camera lingering on the sawed-off leg is the kind of macabre shot Henenlotter would linger on, too.
Felker has only uploaded a few videos to Vimeo — mostly excerpts, too — but you can learn more about her at her official website. She also recently was the cinematographer on Jerzy Rose's debut feature film Some Girls Never Learn, which will open the 18th annual Chicago Underground Film Festival.