Short Film: I'm Keith Hernandez
Even if you don't like sports in general or baseball in particular (like me), you still have to watch the absolutely hilarious I'm Keith Hernandez short film by Rob Perri. If you do like baseball, then you might be mildly disturbed by the time the whole 20-minute movie is over. And don't show it to kids! This video is NSFW and NSFC (not safe for children). For the most part it's innocuous — if you consider the discussion of rampant drug abuse to be "innocuous" — but there's a scene or two that's very adult in nature. But, this is an excellently produced parody of hagiographic TV biographies of famous people, complete with perfect deadpan narration describing the most shocking things.
The '70s and '80s 'stache and cocaine culture get a real workout here by Perri who ingeniously mixes fact and fiction to the point that you don't really know what's true or not. But, at the same time, Perri twists actual events and uses colorful language to describe things that may have happened so that none of it's really outright not truthful, just maybe slightly exaggerated. Heck, I'm just making a guess. I really don't know.
For example, there's the whole mustache issue. Did Keith Hernandez really convince his teammates that if they all rocked the Magnum, P.I. look they'd be crawling with babes? At the same time, one can't really argue with the photographic and video evidence compiled by Perri.
Then there's the clip from Sesame Street where the very serious narrator informs us that it's an anti-drug PSA that Hernandez participated in to help rehab his cocaine-stained image. Muppets singing a song called "Put Down the Duckie" does sound an awful lot like a drug reference.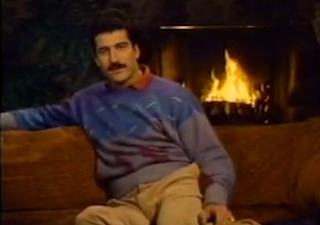 Lastly, there's the infamous porno movie clip that appears towards the end featuring a guy who looks like Keith Hernandez getting it on with a female doctor. However, if you listen closely to the narration, nowhere does it say that it's truly Keith in the clip. Perri just wants us to make that assumption.
The Seinfeld clips, though, are all true.
I'm Keith Hernandez was a big hit on the underground film festival circuit back in 2007. It won the Best Short Film award that year at the Chicago Underground Film Festival. It also screened at the New York and Boston Underground Film Festivals. There was even an entire article in the Village Voice on the film.
However, since going online on Vimeo and it's own official website, the film's been an even bigger hit, receiving — as of this writing — over 12,000 views and getting glowing reviews on major media sites like NBC.