Short Film: Guy Maddin's Sissy-Boy Slap-Party
Raw, half-naked violence explodes across the screen in a gritty tableaux of sweaty brutality in Guy Maddin's short film Sissy-Boy Slap-Party, a film for which a title was never more accurate. Sailors in repose on an island paradise seemingly have no worries of war or danger — until a playful gesture is interpreted as an act of willful aggression. Soon, the innocent act of slight slapping becomes a relentless and unforgiving orgy of open-palmed face-smacking.
Sissy-Boy Slap-Party lends itself easily to comparison's to Jack Smith's legendary Flaming Creatures, from the loose plot structure to the washed-out exposures to the faux B-movie set and costuming to the homoerotic action. But, the film really takes a departure from its inspiration through Maddin's ecstatic and frantic editing when the slap party begins in earnest.
The film has a terrific rhythm to it as Maddin speeds up the editing to hyperkinetic speeds, but knows to periodically slow down on the cutting, allowing the audience to catch its breath before the action ramps back up again. Thus, the film has a very engaging rhythmic flow over its 6-minute runtime.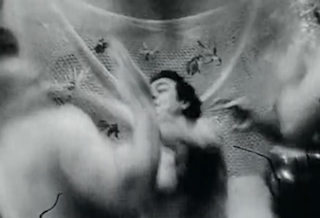 But what may be most interesting about the film is constructed is the way Maddin simulates sexual ecstasy through just editing when there is no sexual activity actually occurring between the men. In the last few minutes of the slapping, the film consists almost entirely of tight close-ups on the men's faces being battered back and forth. Elsewhere, a man banging on the drum is also in tight close up so that we can't see what his hands are doing. In fact, his hands could be doing anything off screen while his face contorts into spasms of pleasure and pain, obviously getting off on his own drumming and watching men slap each other senseless. It's sexual gratification through intimation of editing.
As of this writing, Sissy-Boy Slap-Party is one of several short films that Maddin has uploaded to Vimeo, where he at last joins many of his fellow Winnipeg filmmakers, such as Clint Enns, Jaimz Asmundson, Leslie Supnet and Heidi Phillips, who regularly promote and share their work on the video sharing site.