Short Film: From The Woods
The simple lives of two home-schooled, music-loving, taxidermy-practicing, small-town sisters gets disrupted by an indie rock rebel in Rebecca Conroy's wonderfully deadpan short film From the Woods. Like a punk rock version of Degrassi High (the original version), the film has a wonderful sense of style — the costuming is exquisite — and an authentic feel for the awkwardness of first love, in spite of the more eccentric characteristics of the two lead characters. It's a lovely, charming piece of work.
Real-life sisters Lilie and Wren Bytheway-Hoy star as the on-screen sisters Roxy and Clover, who both come across as more mature than their ages, but exhibiting, too, an innocence that comes from their lack of interaction with the outside world. Therefore, when Roxy encounters her first love, her head is filled with the daydream images of romance she's clipped from magazines even though Ethan (Colin Stein) is clearly a cad from his first introduction.
Things become even more complicated when the sisters befriend Bianca (Hannah Dunne), a nice, but more worldly spirit. Obviously, it's very clear where all this is headed in the film, but the characters and their relationships are well drawn and interesting, so it's fun to watch the kids go through their growing pains, hoping they come out fine on the other side.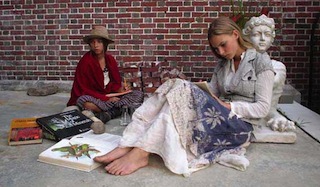 Like Conroy's previous films, From the Woods has a staccato-like beat to it, which serves to emphasize the awkwardness of the relationships, such as Roxy's stalking and tentative attempts at flirtation with Ethan. Plus, ironically, Clover in many ways appears more mature than her older sister. For example, we see her as the one handling the business end of their taxidermy hobby and, in some scenes, she's the one dressing more provocatively. Although, as the younger sibling she simply probably just has more to prove, which brings out her more raw, tougher side.
This is one of those films that, even though it's starring a bunch of kids, is definitely aimed at a more mature, adult crowd, probably appealing more to those who felt like awkward outsiders themselves when they were teens.
For more about Conroy, she's posted a few other videos to Vimeo and you can check out her collage artwork on her blog. (That collage art perhaps inspiring Roxy's hobby of cutting out magazine ads.)
From the Woods photo gallery: