Short Film: Bethlehem
Interior and exterior spaces are transformed into mystical places in Peggy Ahwesh's lyrical meditation of an experimental short film, Bethlehem.
While the film is mostly about general states of being, she does manage to tie in two actual Bethlehems: The most famous one in Jerusalem and the other one in mid-east Pennsylvania, which is Ahwesh's home state.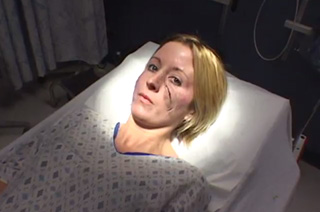 Ahwesh also alternates between inside and outside spaces, as well as between populated locations and people-less ones, giving all the same mythic quality through, obviously, the lyrical score, but also how the mostly non-moving camera soaks in its subjects through obtuse angles and framing. Many shots, particularly of Ahwesh's human subjects, are from below or in intense close-up, granting them an element of grandeur even though they are occupying fairly mundane spaces.
While the film has an epic quality to it, Ahwesh describes it as having a very personal basis:
Working through my archive of accumulated video footage, I pretended it was found footage from anonymous sources. What began as a tribute to Bruce Conner of the period of Valse Triste and Take the 5:10 to Dreamland, with their deliberate pace and bittersweet memory of home, ended as a dedication to my father as I wound my way through miscellany with distance and another aim.
For more info and videos, please visit Peggy Ahwesh's index page on the Underground Film Journal.