Short Film: All Day Long
[NOTE: This film is no longer streaming online.]
Aaah, young love. Painful, torturous, confusing young love! The complete, awful awkwardness of it all is captured perfectly in Andrew Semans' beautiful, endearing short film All Day Long.
In a very subtle, measuredly-paced way, Semans charts the entire course of a first relationship during a single morning and afternoon: From uncontrollable raging hormones to the creeping realization that the two main characters have nothing in common beyond that.
The attraction between Alison (Eilis Cahill) and Daniel (Henry Glovinsky) is clear. Beyond the obvious physical attraction, she is drawn into his rebellious streak. He gives her the freedom to be a "bad girl." But not too bad as she pulls away from his more aggressive sexual advances.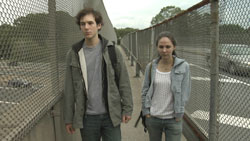 With minimal dialogue, the film truly exists in the silent moments: The brief pause before Daniel responds "I love you, too." The long stretches where they have nothing to say to say to each other. It's exactly what the character's aren't saying that we figure out who they truly are.
I previously reviewed All Day Long a few years ago when Semans' sent me a copy. Watching it again, the film holds up strongly. Because it's all so subtle, but packed with important, dramatic moments there's much to see in it upon repeated viewings.