Short Experimental Film: Light Is Calling
Film is dead. So, what better way to give it a proper send off than to watch Bill Morrison's haunting Light Is Calling, in which the filmmaker manipulates and elevates the 1926 silent film The Bells into a dreamlike meditation on random romantic encounters.
Although the film has a hazy, ruminative pace, Morrison creates a heightened sense of dramatic tension simply by slowing down the simple action of a soldier happening upon a pretty girl in a field to a near unbearable level. The viewer is forced to first figure out the movie's "plot," as it were, by latching onto the brief snippets of clearly defined imagery of the original film. Then, when the storyline becomes obvious, the waiting of the two parallel actions — of the girl and the solider — to inevitably intersect is drawn out to an extreme degree most likely not intended by the original filmmaker, James Young. The action is also most likely extended due to Morrison's visual manipulation being edited to match the larghetto soundtrack by Michael Gordon.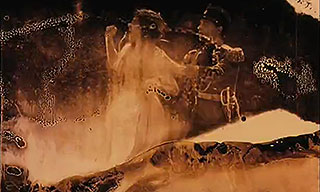 Also, on a probably very personal interpretation, Light Is Calling is extra haunting due to the beige/orange tint that Morrison uses, as well as the bubbling and wrinkling of the actual film, gives the impression that what we're looking at isn't celluloid at all, but flesh. It just looks like charred skin to us, but perhaps not all — or any — other viewers will see it that way, nor is it likely intentional on Morrison's part.
Light Is Calling is also available on the great DVD compilation Cinemad: Almanac 2009.