Short Documentary: Lee Hazlewood
It's Viva Las Vegas time in this trip down memory lane with the one and only Miss Nancy Sinatra and her co-conspirator Lee Hazlewood. And yes, the above embedded short documentary by Suki Hawley and Michael Galinsky includes archive footage of her singing "These Boots Are Made for Walkin'" live on stage. (Personally, I prefer the Crispin Glover cover version, but this will do.) And that stage is at The Riviera, one of the last of the old school Vegas casinos still in business to this day, having opened back in 1955.
The occasion for this short doc about Lee Hazlewood was a re-release screening of the 1973 documentary Nancy & Lee in Las Vegas at the Anthology Film Archives sometime in the late '90s. Hazlewood, who helped edit the '73 film, and the film's director, Torbjörn Axelman, were at the Archives' screening where Hawley and Galinsky sat them down to discuss the making of it. In addition, musician Alan Licht provides some historical contextualization by placing the film on the same level of D.A. Pennebaker's landmark documentary about Bob Dylan, Don't Look Back.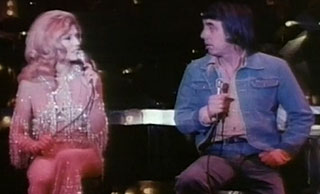 Even the short clips of Nancy & Lee in Las Vegas in Hawley and Galinsky's documentary are pretty interesting, even if you don't think you'd be interested in watching anything about Nancy Sinatra. While the stage performance is pretty ordinary, Hazlewood — as he confesses in the new interview segments — was much more interested in what happened backstage. Nothing shocking or revelatory happens, and that's precisely why it's so interesting — because it's all so ordinary.
Nancy is just a woman lounging on a couch, looking exhausted and decidedly unglamorous. No wonder, as Hazlewood indicates, she absolutely hated the film. But, thanks to Hazelwood's editing, while the backstage footage makes her look like a down-to-earth regular woman and not a diva or a prima donna, it's easy to understand how she might not get how that ordinariness would be a good thing for her image and not a detraction.
I first saw this short documentary back at the 2000 New York Underground Film Festival where it was called Lee Hazlewood in New York. (The film doesn't have an actual title on it.)
Currently, Hawley and Galinsky run their own production and distribution company called Rumur and are working on the new documentary Battle for Brooklyn, which chronicles the fight between residents of the Prospect Heights neighborhood with real estate developers and NYC government officials intent on tearing down their homes in order to build an enormous sports and entertainment complex. (Update: Watch Battle for Brooklyn streaming online)