Short Documentary: Friday Night Magic
Card playing — e.g. games like poker, blackjack, gin, etc. — is an American pastime. However, in the short documentary Friday Night Magic, get introduced to a different type of card playing you may not expect adults to be obsessing over: The two decades old trading card game Magic the Gathering.
Watching other people enjoy their obsessions can be a joyous experience, and Friday Night Magic perfectly captures that spirit, catching Magic the Gathering fans as they ride the high of slapping down cards on folding tables with their like-minded brethren just for the sheer thrill of imaginary battle.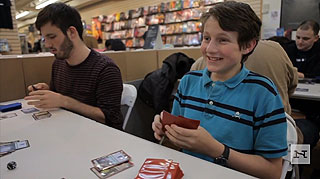 Filmed at Get There Games in Castleton Corners on Staten Island, co-directors Holly Lynn Ellis and Andrew Tank Rivara capture a diverse range of personalities from all walks of life in the greater New York area. Most compelling of the bunch is Mitchell Stein, a Manhattan attorney who has been playing for nineteen years, who now enjoys the game with his young teenage son. Seeing them go for each others' throat in a genial, bonding way is very touching.
Bit of trivia: Co-director Holly Lynn Ellis is also an actress who has appeared in several films by sci-fi/horror filmmaker Brian Lonano, such as the original Attackazoids! and, more recently, The Transmission.