Sheldon Renan's Classic Underground Film Book Now Online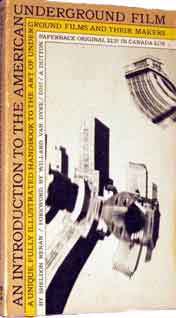 An Introduction to the American Underground Film, the seminal book on avant-garde and experimental film history written by Sheldon Renan in 1967, is now available for free download at Archive.org. Anybody who is even slightly interested in underground film history needs to download this important book.
Renan's book has been long out of print and this online version that's been made available for free comes courtesy of the author himself. Those who download this scanned version will be greeted by a personal note on the title page by Renan that reads:
For the Internet Archive and all it's users, world wide. Sheldon Renan May 6, 2011 (Thank you, Brewster, for what you've created.)
The Underground Film Journal originally reviewed An Introduction to the American Underground Film back in 2007, and has continually referred to it over the years as an essential source for underground film history, especially for the still-in-progress Underground Film Timeline project.
While the title clearly indicates the book's focus is on the American underground, Renan does begin with a history of the European avant-garde film scene before concentrating on the then major figures of the underground film movement, including Kenneth Anger, Stan Brakhage, Jonas Mekas, Bruce Conner, Ken Jacobs and more.