Cinema Abattoir In Europe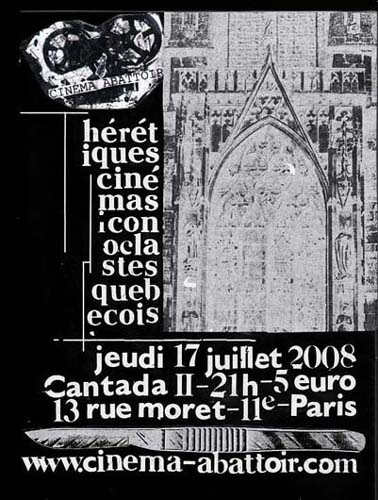 I'm behind in listing some individual upcoming screenings, so I'm bundling these together in this one post. Actually, if I get enough special screenings info in the future, maybe I'll make this a more regular feature. If you're interested in having your underground film screening listed, you can always drop me a line. But for today, let's take a demented trip around the world with this international edition:
July 17
9 p.m.: Cinema Abattoir presents: "Heretiques: Cinemas Iconoclastes Quebecois"
Pierre-Luc Vaillancourt is taking his transgressive screening series on the road across Europe. His next stop is in Paris at the Cantada II at 13 rue Moret. Even if you're not planning on being in Paris, you gotta get a load of the Cantada website. I don't know what any of it says, but I likes what I sees. It totally looks like a place where Cinema Abattoir would be right at home. Whoa, nellie! There's two groupings of screenings and some of the films are from the Abattoir DVDs and some I'm not familiar with. #1 Underground Film Journal pick: Pierre-Luc's own film Extase de Chair Brisee, which I'm not saying just because he sends me the DVDs. I wasn't even aware he directed the film when I first watched it. Scouts honor. Here are the films:
CORPS-TRANSGRESSIFS:
Washing Machine, dir. Ca Ca Ca
Yellow Fever, dir. Frédérick Maheux
Poupon Rose, dir. Serge de Cotret
Goopy Spasms, dir. Rick Trembles
Extase de Chair Brisee, dir. Pierre-Luc Vaillancourt & Frédérick Maheux
Passage, dir. Karl Lemieux
Hymn to Pan, dir. François Miron
CORPS-TRANSCENDENTAUX:
Imperatrix Cornicula, dir. Jérôme Bertrand
Pinhole Flames, dir. Amy Schwartz
Untitled, dir. Lucia Fezzuoglio
Theocordis, dir. Serge de Cotret
Essai a la Mille, dir. Jean-Claude Labrecque
Trahs and No Star!, dir. Karl Lemieux & Claire Blanchet
Kick That Habit Man, dir. François Miron
July 18
6:00 p.m.: "Cinema in a Cave"
If you're Down Under in Perth, Australia and you're still on a film high from the Revelation Film Fest just held there, then the Cinema in a Cave screening series returns to North Perth Lesser Hall just in time with a feature film and a short. This is my first time listing these guys, but I like their moxie. And if you plan to go, I think you have to RSVP first on their site. The program for this night is:
Boxing Day, dir. Kriv Stenders. An ex-con tries to show his family that he's committed to getting his life back on track when he invites everybody over for a Christmas lunch. However, those plans go awry when one of his crooked friends shows up uninvited.
Screening with the short film:
Hole in the Ground, dir. Kenta McGrath. An alienated young man livens his life up by causing anti-social acts and videotaping them. (Read the review)
8:00 p.m.: Nick Zedd Mini-Retrospective
NYC's own transgressive legend, Nick Zedd, is having a retrospective of his work at the Gene Frankel Theatre in his hometown, so there's really no chance of him being detained at any border and sent back home. Unless, of course, he gets hassled on the subway from Brooklyn to the Bowery, which is possible. Tip: Take the G train to the E. Hardly anybody uses those. Actually, I'm not 100% sure he's going to show up, but I did snag this info from one of his websites. Anyway, this may be a "mini" retrospective given Zedd's lengthy career, but this is two hours of great transgressive dementia from the original master. Here's a partial look at the lineup:
Police State
Thrust in Me
War Is Menstrual Envy (excerpt)
Ecstasy in Entropy
Whoregasm
Electra Elf
And More…