Westsider Strikes Again
1) A few weeks ago, Charles Doran screened his own Westsider during his awesome Los Angeles as a Character screening event. In L.A. again, the film will be screening as a part of the Zero Film Festival. Zero is promoting itself as a corrective to traditional film festivals and is taking place in alternative venues around the downtown area.
I'm not familiar with the other films playing at the fest, but I always take the time to heartily recommend Westsider. The L.A. audience the other night really got into the film, so I expect this new screening to go like gangbusters as well. The fest is going on now and running until the 6th. Visit their website for more info. But here's the specific Westsider screening info:
Dec. 4
6:00 p.m.
Westsider, dir. Charles Doran (along with other shorts)
Downtown Independent Theater
251 South Main St
Los Angeles, CA 90012
(between E. 2nd and E. 3rd St.)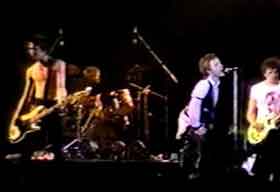 2) Tonight marks the final kino21 screening event of the year. The title of the night is "San Francisco Bootlegs and Beyond" and will feature rare film and video of other final and/or unique events that have taken place in S.F., including a rarely screened '72 documentary about the Rolling Stones. kino21 isn't giving out the title of the Stones film, but if I were to hazard a guess it would be, well, I'll use an expurgated version of the title: C***sucker Blues.
This is also an extra special event for kino21 as they're setting up as a fundraiser for the Artists Television Access center. That's where the screening will take place, so any donations for the night will go directly to the ATA, which is an invaluable film resource center for the city.
Dec. 4
8:00 p.m.
"San Francisco Bootlegs and Beyond"
Artists Television Access
992 Valencia St
San Francisco