Scorpio Rising: The 1964 Los Angeles Obscenity Trial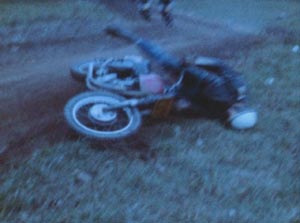 In the Spring of 1964, Los Angeles theater manager Michael A. Getz was arrested and placed on trial for screening Kenneth Anger's Scorpio Rising. Below are several articles the Underground Film Journal has found that follow the progression of the case.
From the Los Angeles Times, March 3, 1964:
Festival Entry Scheduled for Cinema's Screen
"Hallelujah the Hills," American entry at the first New York Film Festival last September, will begin an engagement at the Cinema Theater on Wednesday.
The comedy also represented the U.S. at Cannes, Montreal, Locarno, Mannheim, and London.
This comedy which stars Peter H. Beard, Sheila Finn, Marty Greenbaum and Peggy Steffans was shot in Vermont.
"Scorpio Rising," a short subject will accompany the feature.
---
From the Los Angeles Times, March 21, 1964:
Anger's 'Fireworks' Screening at Cinema
The Cinema Theater has added "Fireworks" by Kenneth Anger to its current bill featuring "Hallelujah the Hills." "Fireworks" replaces Anger's "Scorpio Rising."
---
From the Los Angeles Times, April 20, 1964:
SPECTATOR, 1964
Movie Censorship War Flickers Up Once More
by Art Seidenbaum
Times Staff Writer
The obscenity argument is with us once more, this time in film form.
It clouds around a motion picture called "Scorpio Rising," a one-man effort by local film maker Kenneth Anger. During the shank of a March Saturday night the Los Angeles vice squad dropped into the Cinema Theater long enough to confiscate Anger's extended short subject.
In mid-March, Michael Getz, manager of the Cinema, was arraigned for "exhibiting an obscene film." His trial happens Wednesday. Meanwhile, Mr. Getz is carrying a print of Anger's movie around town, trying to round up a series of experts who will testify that it is not obscene.
[END OF EXCERPT]
---
From the Los Angeles Times, April 30, 1964:
Film Labeled as Lewd to Be Seen in Court
Selection of a jury began Wednesday for the trial of Michael A. Getz, 24, theater manager charged with exhibiting a lewd film.
Prospective jurors in Municipal Judge Bernard S. Selber's court were told that the film, "Scorpio Rising," confiscated when Getz was arrested March 7, will be shown in court.
Manager Arrested
Getz was taken into custody at the Cinema Theater, 1122 N Western Ave., by four Hollywood police officers, after they had viewed the motion picture.
The arresting officers said the film dealt principally with homosexuality.
Getz, of 2186 Broadview Terrace, told officers that the picture was produced by Kenneth Anger, who recently was awarded a $10,000 grant by the Ford Foundation for the production of a documentary film on automobiles.
---
From the Van Nuys Valley News, December 10, 1964:
Lewd Film Conviction Reversed
The appellate department of Superior Court today had reversed the Municipal Court obscenity conviction of a theater manager after declaring the film "Scorpio Rising" is not hard core pornography.
An all-woman jury last May 13 convicted Michael A. Getz 24, of 2186 Broadview Terrace, Los Angeles, of exhibiting a lewd film at the Cinema Theater, 1122 N Western Ave., Hollywood.
However, Judges Harold P Huls, A. Curtis Smith and Frank Swain found that the movie, which deals principally with homosexuality, does not fall under the obscenity statute, which defines obscenity to mean: "..that to the average person, applying contemporary standards, the predominant appeal of the matter taken as a whole is to the prurient interest…"
Municipal Court Judge Bernard S. Selber had sentenced Getz to a $500 fine or 50 days in jail. Sentence was stayed pending appeal.
The appellate judges ordered the conviction reversed and the charge was dismissed.
Underground Film Journal notes: Looking at this case from a historical perspective, it seems absolutely ludicrous that it even happened, especially when the only "crime" here is that some imagery appeared to have some homosexual overtones. In 1964, it was a crime to even appear to be gay.

Perhaps the most hilarious aspect of the entire event is that in response to Scorpio Rising being confiscated, the Cinema Theater replaced the film with Anger's earlier film, Fireworks, which arguably is even more overtly homosexual.

Mike Getz would go on to have long career as a film programmer. The Alternative Projections project recently interviewed Getz about his career and about the Scorpio Rising incident. The interview gives an interesting insight into what it was like programming underground films in the '60s.