Scorpio Rising — Kenneth Anger
[Ed. Note: Film no longer available to view on this site.]
Scorpio Rising by Kenneth Anger. Completed in 1963.
The film opens with a title card of Anger's production company. It reads "Puck Film Productions", along with the tagline "What fools these Mortals be!" The film's title appears about a minute and a half into it, which is studded onto the back of a man's motorcycle jacket. Beneath the studded title is the filmmaker's name, Kenneth Anger. The film concludes with the word "End" on a man's belt, followed by the same opening Puck Film Productions title card.
While none of the on-screen participants are credited on the film, the booklet accompanying Fantoma's DVD restoration of the film gives these credits:
Bruce Byron (Scorpio); Johnny Sapienza (Taurus); Frank Carifi (Leo); John Palone (Pinstripe); Ernie Allo (The Life Of The Party); Barry Rubin (Pledge); Steve Crandell (The Sissy Cyclist)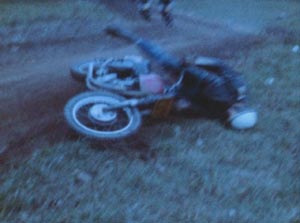 The DVD booklet also gives a release year of 1964, which is either an error or may be the year Anger considered the film "complete." However, the film most definitely screened in 1963. Jonas Mekas wrote about the film on November 14, 1963 in his "Movie Journal" column and the book compilation of those columns includes a movie poster announcing a screening of the film at the Gramercy Arts Theatre on November 11, presumably of the same year. Scorpio Rising screened as part of a retrospective of Anger's work up until that point.
In 1964 in Los Angeles, Scorpio Rising screened as the opening short film before the feature Hallelujah the Hills by Adolfas Mekas. After screening for several weeks, theater manager Michael A. Getz was arrested for showing an "obscene" film. Getz was later found guilty after a jury trial, but his conviction was ultimately overturned by a superior court.
Since then, Scorpio Rising has become considered a pioneering masterpiece of homoerotic cinema, written about in numerous books, such as P. Adams Sitney's Visionary Film. Also, the Underground Film Journal named the motorcycle crash that ends the film, and in which the rider died, one of underground film history's most outrageous events.
This film and more can be found on the excellently produced DVD box-set by Fantoma that presents restored versions of Anger's infamous Magick Lantern Cycle and others.