Movie Review: Run Run It's Him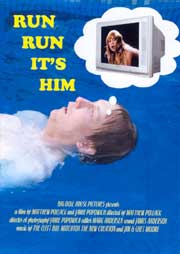 One wouldn't normally expect a dude making a documentary about his lifelong pornography addiction to interview his parents about his obsession, but that's just the kind of personal detail that filmmaker Matthew Pollack injects into Run Run It's Him.
This cinematic memoir is filled with lots of embarrassing detail while also leaving out more general information, making for a somewhat mixed viewing experience.
One issue is that it's difficult to exactly determine what Pollack's goal is in making the film. Is the filmmaker trying to exorcise his perverted demons? Wanting to come to a satisfied personal resignation? Or is he asking the world, not himself, to decide if his obsession is an unhealthy habit or not such a bad thing to be concerned with after all?
The majority of the documentary is concerned with Pollack, who is in his early 30s, concurrently recounting his own personal history with pornography, of which there is a lot, and with real-life girlfriends, of which there are only a few.
Pollack's introduction to pornography at a young, pre-teen age is most likely similar to most young men's indoctrination into the world of naked adults doin' it on camera. For Pollack, it was accidentally spying on some porn that his older brother and a friend were watching.
However, Pollack's introduction became a quick, intense fascination, especially when, through happenstance, some "secret" pornography lands right in his hands, like a lightning bolt of Zeus zapping into his soul.
The film's best moments come with Pollack's hilarious recreations of his early porn-watching habits with the desperate attempts and rationalizations to hide his behavior from his family. (Although, as we find out through interviews with his mom and dad, they weren't as unaware as Pollack had previously assumed they were.)
Pollack recalls his autobiography more or less in chronological order. However, instead of presenting a thorough understanding of all aspects of his personality and social standing, his tales are all through the porn filter: His specific predilections start coming into focus; his embarrassment at not being able to relate his more sexually active male peers; and, recalled in the most detail, his own fumbling attempts to have sexual and romantic relationships with women.
But, perhaps the porn filter exists as that's how Pollack can only view himself. The charm engendered by the earlier segments begins to show a little wear in the way he discusses his girlfriends, as if his experiences with them are little more than painfully awkward letters to Penthouse Forum. Even though Pollack even visits one ex to get a handle on what their relationship was like, one has to wonder if he's trying to get to an emotional truth or just trying to accurately hit the "Rewind" button on his sexual development like he would to revisit a favorite porn movie scene.
One has to admire the bravery of a filmmaker to put so much out there of himself, especially one with so much TMI as this. When Pollack finally clues us in on his current situation, depending on one's point of view of such things, a viewer may or may not deem it wholly unpleasant. The stacks and stacks of videotapes, the detailed notebook archive of his favorite scenes, etc.
Run Run It's Him is also not just a single camera confessional, which would be too easy. In addition to interviewing his parents, the documentary concludes with Pollack sharing some of his favorite pornography tapes with several female friends who were unaware of his private obsession. He wants to know what women think of pornography, but, more importantly, he is asking these women to judge him publicly, sort of a precursor to asking viewers of the documentary to do the same.
However, viewers don't know Pollack publicly and can only come to a conclusion seen through his porn haze. What we never learn is his relationship to these women, how close are they as friends, etc. Clearly, the filmmaker has some kind of life outside of his porn bubble. One friend even propositions him on camera in way that questions why the filmmaker doesn't take her up on it immediately if he's so sex starved instead of politely turning her down.
In that regard, Run Run It's Him is a complex film, even if Pollack only dares to show us one side of his personality.
Watch the Run Run It's Him trailer: