Rooftop Films: B.I.K.E.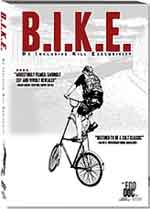 Here's the Rooftop Films — the "underground" Manhattan/Brooklyn outdoor film festival — schedule for this weekend. I'll try to do a longer post later for the rest of the month. The festival also does run throughout September, but that month will get it's own posts, too. But for now here's the lineup:
Thursday, Aug. 3, 8:30 p.m.:
Feature documentary: Sentenced Home, dirs. David Grabias and Nicole Newnham. A young Cambodian man who immigrated to the U.S. as a child with his family faces deportation back to his home country after he applies to be a full citizen following 9/11. Preceded by the short film Fat Cake by Leslie Dektor and the live band mushroom cloud -x. Screening on the roof of Downtown Community Television (DCTV), 87 Lafayette, Tribeca.
Friday, Aug. 4, 8:30 p.m.:
Feature documentary: B.I.K.E., dir. Jacob Septimus and Anthony Howard. A profile of the Black Label Bicycle Club, the infamous bike club that believes that the impending apocalypse will render automobiles useless. Preceded by the live band Vaz. Screening on the roof of 210 Cook St., Bushwick, Brooklyn — one of the original homes of the festival. (Read the underground movie review)
Saturdsay, Aug. 5, 8:30 p.m.:
Shorts program: "Trapped Inside the Machine." Shorts made by filmmakers who think that it's the video games playing them and not the other way around. Preceded by live music by Johnnytwentythree. Screening on the lawn of Automotive High School, 50 Bedford Ave. b/w N. 12th St. and Lorimer.
As always, for more info, please visit the Rooftop Films official site.