Rockocalypse To Annhiliate Austin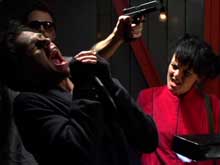 Well, I certainly hope that doesn't happen. I know way too many cool people who live there. But somethin's gonna get blown up real good when the Austin Underground Film Society presents a special screening of Joshua von Brown's punk destroyer Altamont Now on March 13 at 9:00 p.m.
Plus, in addition to this devastatingly awesome film, there will be a live performance by local Austin band The Crack Pipes who contributed to the movie's eardrum exploding soundtrack. And guess what? March 13 also happens to be the opening night of SXSW. So, while the intelligentsia are over there hobnobbin' at their petty bourgeois festival, you can be where the real mind-blowing action is at Beerland at 711 Red River Street.
I mean, come on people. How many times do I have to tell you that Altamont Now was the best movie of 2008? Did I not say:
Altamont Now is a major blast in every sense of the adjective. It's a film that punches you in the face and drags you deep into the center of the mosh pit where it keeps you until the final encore.
Well, I did and you have no excuse for missing out. When the rockocalypse comes, you're gonna wanna see it coming. Check out the Austin Underground site for more info.
March 13
9:00 p.m.
Altamont Now, dir. Joshua von Brown
Beerland
711 Red River Street
Watch the trailer: