Robert Beck Memorial Cinema: 1998 Screenings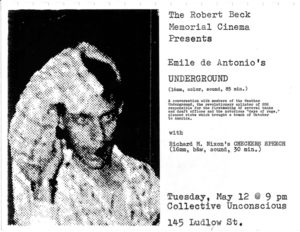 This is Part Two in a series of articles on the Robert Beck Memorial Cinema (RBMC). As detailed in Part One, the RBMC was an experimental film screening series in New York City, started by filmmaker Brian L. Frye.
Frye programmed the first screening on May 12, 1998 at the Collective Unconscious theater space. The screening included the feature-length documentary Underground by Emile de Antonio about the left-wing militant group the Weather Underground, and a kinoscope of Richard M. Nixon's infamous "Checker's Speech." At the screening, fellow media artist Bradley Eros introduced himself to Frye and the pair co-programmed the RBMC together for several years.
The goal of the screenings was to present work that typically wouldn't be projected anywhere else, such as small gauge film formats and expanded cinema performances. The RBMC would also host filmmakers in town for larger shows elsewhere in the city and asked them to screen their older, less seen work for the more intimate audiences that the RBMC attracted.
Since the RBMC originated before the Internet was a household phenomenon, each screening was promoted with analog posters and/or program notes that Frye assiduously archived. Frye has graciously lent the Underground Film Journal these archives in digital form, which we are presenting in this and future articles.
Directly below is a list of all RBMC screenings in 1998 — from the first one on May 12 through to December 26 — compiled by the Journal from the archives. All the screenings were put on at Collective Unconscious at 145 Ludlow Street in NYC's Lower East Side, with the exception of the last one on Dec. 26. That final one was held at the Anthology Film Archives and featured Frye screening his own films.
True to the RBMC's mission, the list of screenings below features an eclectic mix of films and cinematic performances. It includes classic work by filmmakers such as Bruce Baillie, Mary Ellen Bute and Kenneth Anger; and work by then rising names in the experimental film scenes such as Kerry Laitala, Jeanne Liotta and Stephanie Barber.
Lastly, below the list of screenings is an image gallery of the RBMC archives. This is a selection of posters and program notes from 1998, not the entire '98 archives.
May 12
Underground, dir. Emile de Antonio
"Richard M. Nixon's Checkers Speech"
May 17
"Films From the Collection of The Society for Cultural Phrenology"
Student work by Oliver Stone
Films of Tony Ganz
Selected home movies
La Jete, dir. Chris Marker
The Flying House, dir. Winsor McCay
Oona O'Neill Screentest
May 26
A Brief Analysis of Vegetable Locomotion, dir. Eric Waldemar
The Discovery of the Crystalline, dir. Eric Waldemar
The Origin of Music, dir. Eric Waldemar
(Perhaps others by Waldemar)
Mirror Animations, dir. Harry Smith
Garden of Earthly Delights, dir. Stan Brakhage (DVD)
June 9
"Subterranean Science Night"
An expanded cinema performance by Bradley Eros, screening science films and incorporating audience participation with smell, touch and taste. Performances broken up into:
Crystallization (Olfactory)
Carnivorous Plants (Taste)
Atomic Cinema (Tactile)
Genetic Pool (Space)
Nous (Being)
June 16
Films by Rick Rodine and George Kaperonis
(specific films screened unknown)
June 23
Live visual manipulations from Vancouver by Alex Mackenzie of the audio-visual collective "Phosphene"
Subverted Horseplay by Jeanne Liotta and Bradley Eros. Described as "A chamber piece for projectors" featuring music from Celestial by Circle X; and text from Almanac of the Dead by Leslie Marmon Silko
June 30
Figuren, dir. Ed Schindler
Pi, dir. Laura Purdy
Biting the Hand That Feeds Me, dir. Kathy Purdy
Retrospectroscope, dir. Kerry Laitala
Secure the Shadow, dir. Kerry Laitala
I'm Gonna Piss All Over Your Fuckin Face You Stupid Pig, dir. Shane Valentino
Les Matires Fous, dir. Jean Rouch
July 7
"Collage Cinema"
Mutable Fire, dir. Bradley Eros
News Parade 1941
Trigger Film, dir. Luis Recoder
Valse Triste, dir. Bruce Conner
Test, dir. Kerry Laitala
Kustom Kar Kommandos, dir. Kenneth Anger (DVD)
Ischemia, dir. Karen Jedrysik
July 14
Lost, dir. Zoe Beloff
July 21
"Psychotopography: The Spirit of Place"
Motomanhattan: Motorcycle Rushes
Small Town Dr. So and So: Dance Performed Sprint 1993
Minutes on 5th St.: Concrete
Mass for the Dakota Sioux, dir. Bruce Baillie
Ism Ism, dir. Manuel DeLanda
Graffiti Lunch: Possible Felon in a Legal Moment
July 28
"Merzfilm, a Tribute to Kurt Schwitters"
August 97 Greenpoint New York, dir. Lisa Krist
Shark Attack, dir. Slink Moss
The Islands, dir. Slink Moss
Very Important: A Bird Walked on It, dir. Eric Waldemar
Mothlight, dir. Stan Brakhage (DVD)
Film In Which There Appear Sprocket Holes, Edge Lettering, Dirt Particles, Etc., dir. George Landow
Sound collages by Bradley Eros
August 4
Workers Film and Photo League (of the Workers International Relief) Newsreels 1930-1934
Black and Tan Fantasy, dir. Dudley Murphy
The Fall of the House of Usher, dir. James Sibley Watson and Melville Webber (DVD)
The Life and Death of 9413: A Hollywood Extra, dir. Slavko Vorkapich and Robert Florey (<strong>DVD)
Rhythm in Light, dir. Mary Ellen Bute
Parabola
A Bronx Morning, dir. Jay Leyda
August 11
"Artists' Films + Videos"
Drawbridge Turnstile, dir. Richard Serra
I Like America & America Likes Me, dir. Joseph Beuys
What Is Sound, dir. John Cage and Rahsaan Roland Kirk
Auf der Lauf (The Way Things Work), dir. Peter Fischli and David Weiss
August 18
Tremors, dir. Vincent Grenier
Portrait Study, dir. Mark Wilson
Of Significant Importance, dir. Kurt Easterwood
Tensile, dir. Mark Wilson
Jankas Strudel, dir. Jim Siebert
Field Study — Unfolding, dir. Anna Preslar
Motion Studies No. 10, 12, 7, 3, 2, 5, 13 and 9, dir. Mark Wilson
August 26 (Wednesday Midnight Screening)
Bradley Eros presents Erotic Psyche's "Pyrotechnics/Electramorphic"
Brian L. Frye presents "Transfigured Night: Prologue to the Secret Cinema"
September 1
Montage, dir. Gregg Biermann
Window of Appearances, dir. Gregg Biermann
You Never Worry, dir. Gregg Biermann
Detached Americans, dir. Gregg Biermann
September 15
"Exposure With Electric-Eye Cameras: San Francisco Filmmakers"
The Story of Aargh-X, dir. Thad Povey
Lun, dir. Steven Dye
Memory Eye, dir. Alfonso Alvarez
Learning to Slump, dir. Thad Povey
Tiny Rubber Band, dir. Alfonso Alvarez
La Reina, dir. Alfonso Alvarez
The Sweetest Sandwich, dir. Thad Povey
My Good Eye, dir. Alfonso Alvarez
Necromancy, dir. Steven Dye
Thine Inward-Looking Eyes, dir. Thad Povey
Quixote Dreams, dir. Alfonso Alvarez
On Any Given Thursday, dir. Thad Povey
King Midas, dir. Steven Dye
Strange Thing, dir. Thad Povey
Subtle Flight of Birds, dir. Steven Dye
September 22
"Still Narrative"
Mark C. presents "Return to the Underground City of the Mind Screwers"
Jennifer Fieber presents "A Contribution to Anonymous History"
September 29
"Films by tENTATIVELY a cONVENIENCE"
3 Mile Island
Paper Dolls in Dava's Class
Les Promenades Hysteriques
Pumm: Emma Elizabeth Downing
National Cancer Institute Documentary
Diszey Spits
How Orgone
Peterson's Restaurant
Department of Failures
The Postman Always Rings…
Mirthplace of the Republicans
Background Movies
Volunteers Collective/Slide Show
Death Bed Aerobics
Department of Maybe
October 6
"Home Movies"
Home, dir. Luke Sieczek
Shot in Kodiak, dir. Lara Messersmith
Messages, dir. Guy Sherwin
October 15
"Programmed by Gregg Biermann"
Midnight Son, dir. Jerome Cook
Tree Farm Energy, dir. Francis Schmidt
Cycles, dir. Ariana Gerstein
Mia Zia, dir. Nino Pezzella
Flexi-Creeps, dir. Steve Bartoo
The Garden of Eden, dir. Robert Flowers
They Invented Machines, dir. Stephanie Barber
Jimy and Roky, dir. Jim Seibert
October 20
Drink Me, dir. Lisa Barnstone
Sleepwalk, dir. Lisa Barnstone
The Inventor (excerpts), dir. Lisa Barnstone
Mrs. Crawford, dir. Rick Rodine
Slop, dir. Rick Rodine
The Cockfight, dir. Lisa DiLillo
Tongues Don't Have Bones (work in progress), dir. Lisa DiLillo
October 27
"Philosophical Toys" presented by Zoe Beloff and Brian L. Frye
Highlights include:
The Nic Projector "talkies"
The Space Viewer — Automagic Picture Gun and Theatre
The Keystone Moviegraph
The Lindstrom 16mm Hand Wind projector
The Holmes Stereoscope
The Magic Lantern
November 3
"Sound Film/Film Sounds"
Work by:
Alex Mendizabal
Bruce McClure
Stom Sogo
November 10
"Probability and Uncertainty"
How to Build an Igloo
Housemoving, dir. Derek Lamb
Exploring With a Time Lapse Camera, dir. William M. Harlow
Freefall, dir. Arthur Lipsett
Anathema, dir. Julie Murray
Micromoth, dir. Julie Murray
Conscious, dir. Julie Murray
If You Stand With Your Back to the Slowing of the Speed of Light in Water, dir. Julie Murray
November 17
"Theory of Colours (Part I)"
Near Windows, dir. Ken Paul Rosenthal
Spring Flavor, dir. Ken Paul Rosenthal
Blackbirds, dir. Ken Paul Rosenthal
Between Spirits and Stone, dir. Ken Paul Rosenthal
"Theory of Colours (Part II)"
Films in Super-8 by Steve Polta
November 24
Naked City Series, dir. Henry Hills (includes Gotham, Osaka Bondage, Heretic and Igneous Ejaculation)
Little Lieutenant, dir. Henry Hills (Watch Online)
Elektra 40 Years, dir. Henry Hills
December 1
"Concrete Cinema"
17 films by Michael Johnson
Leader, dir. Bruce McClure
"A Scanner Concerto" by Leif Maginnis
A re-creation of Horror-Film performance by Malcolm Le Grice
December 8
Das Goldene Tor (The Golden Gate), dir. Jurgen Reble
December 15
"Amateur Anthropology": A hagiography of the amateur assembled by Stephen Ken Jusick
December 22
Satyricon, dir. David Shea and Lisa DiLillo (a live performance)
December 26
(Special 'secret' program at Anthology Film Archives)
"Apology for the Beginnings of General Philology: An Illustrated Lecture by Brian L. Frye"
Nausea
Intervals
Interventions
Essays Toward a Natural History
Ladies Day
Meeting with Khruschev
Waiting for Godel
Striptease
The Most Important Moment in My Life
December 26
"(Perfect) Movie Program"
Selected Gallery of RBMC Posters / Program Notes: