Remix: POTUSes — Movie Presidents of the United States
In a perfect video to watch on Election Day — or really any day for that matter — video mixologists Wreck & Salvage have put together an astounding compendium of clips of U.S. presidents from sci-fi flicks, comedies, drama, action movies and more. If you have trouble matching each POTUS with each movie, below is a handy guide provided by W&S of the 51 films they've cribbed from.
The clips, of course, aren't strung together willy-nilly. There's a definite arc, flow and rhythm that provide a quasi narrative. Most movie presidents are there to deliver the "oh shit" news to the country — aliens are going to kill us all, an asteroid is going to kill us all, the economy's in the toilet, all plant life is dying, etc. You know the "oh shit" news is coming when you hear the clichéd refrain, "Good evening, my fellow Americans." (Actually, the movie My Fellow Americans is included in the bunch.)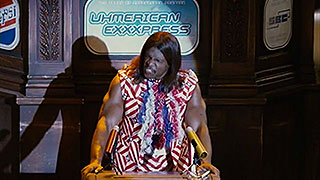 Some of the Underground Film Journal's favorite presidents include sci-fi/horror fan icon Forrest J. Ackerman making a brief appearance in the cult anthology comedy Amazon Women on the Moon and Donald Pleasance getting his comeuppance at the end of John Carpenter's Escape From New York.
But the absolute best POTUS, probably of all time, is President Camacho played by Terry Crews in Mike Judge's Idiocracy, who when he has to deliver his "oh shit" news needs the word "shit" typed out on the teleprompter. (Crews was on Conan O'Brien lately saying that Judge was planning a new comedy starring Camacho, which would be awesome.)
Here's the list of films featured in the remix above:
xXx: State of the Union
Amazon Women on the Moon
Air Force One
Dave
First Daughter
Clear and Present Danger
Deep Impact
Seven Days in May
Independence Day
Escape From New York
Mars Attacks
2012
Swing Vote
Hot Shots! Part Deux
Superman II
My Fellow Americans
Armageddon
Sum of All Fears
Austin Powers: The Spy Who Shagged Me
Escape from LA
Absolute Power
Idiocracy
Captain America (1990)
The Day After Tomorrow
The Rock
Left Behind: World at War
Murder at 1600
Fail-Safe (1964)
Fail-Safe (2000)
American Dreamz
Dr. Strangelove
The Second Civil War
The American President
Wag the Dog
Scary Movie 4
Twilight's Last Gleaming
In the Line of Fire
The Adventures of Rocky and Bullwinkle
The Contender
By Dawn's Early Light
The Pelican Brief
G.I. Joe: The Rise of Cobra
W
Head of State
Vantage Point
Love Actually
Chain of Command
Adventures of Buckaroo Banzai Across the 8th Dimension
National Treasure 2: Book of Secrets
How to Succeed in Business Without Really Trying
Canadian Bacon
Get Smart