Reminder: Spooky Movie Presents Poultrygeist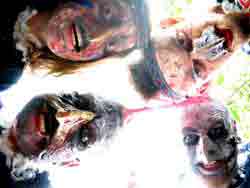 The Washington, D.C. area Spooky Movie Film Festival is holding their inaugural Midsummer Night's Scream event this July 17 at 6:30 p.m. at the Cinema Arts Theater at the Fair City Mall in Fairfax, VA. They'll be showing Lloyd Kaufman's brilliant new feature Poultrygeist: Night of the Chicken Dead, a film filled with tons of gore, chicken pieces, feces, politically incorrect humor, corny jokes, boobs and snappy musical numbers.
So, I've already raved about the film and posted about this screening, so why the hell am I bringing it up again? Good question. Here's the answer:
Festival director and all-around-good-guy Curtis Prather sent me the four short films that will screen before Poultrygeist on the 17th and I wanted to give them their due as well. I'm not going to give a full review of the shorts here because I'm hoping to get my mitts on Spooky Movie's short film DVD compilations, Festival of Horrors, which will contain these same four short films. So, if you love 'em at a Midsummer Night's Scream, you can own 'em a couple weeks later.
The four short films Prather has chosen to screen with Poultrygeist could not be further in tone than your typical Troma production, so they'll make an interesting pairing with Kaufman's latest wild ride. These shorts are much more subtle in their approach to horror and a little more thoughtful. Well, Poultrygeist is thoughtful, but in a different, insanity-rules kind of way. To put it this way: The shorts are films that want to crawl under skin while Kaufman wants to smash your skin in with a sledgehammer.
These four short films, with my brief thoughts on them, are:
The Ancient Rite of Corey McGillis, dir. Dalibor Backovic. This short starts off really slow, almost like it's not even a horror movie, but you can kind of see what's coming since it's included with a bunch of other horror movies. Backovic really pulls out the stops on the ending, though, so stick with it and it's extremely rewarding.
Seekers, dir. Jon Jorgensen. This is a fun comic-book-y vampire film. Normally, I want to chew the head off of anyone who describes a movie as "comic-book-y," but since the main character here is a comic book artist and there's a nice melding of animation and live action, for this film it's an apt description. Has quite an original look.
Eight Thirty-Two, dir. Ben McDaniel. This is actually a sci-fi themed short about the horror of losing one's mind. It's kind of got a modern Twilight Zone vibe going on with a twisty, puzzling plot that's fun.
The Marionette, dir. Holly Paige Joyner. This was my favorite short of the bunch. Just when you think it's going to be another snoozy torture porn flick, the story really takes some nice twists and shows what a good filmmaker can do with a tired genre. Really a nice pleasant surprise.
So, the 17th should be a terrific night and, if this is just a sample of what's on the Festival of Horror DVDs, those should be excellent as well. Here's the screening info again:
July 17
6:30 p.m.
Cinema Arts Theater at the Fair City Mall
Fairfax, VA
$12