Rebecca Conroy: From The Woods Footage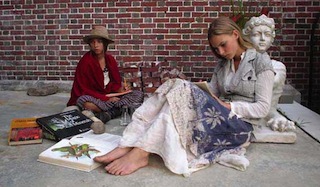 A new "camera sketch" is available online from artist and shorts filmmaker Rebecca Conroy, which I've embedded below. (NOTE: Video no longer available) From the Woods is a quick 3-minute piece of a longer work about teen musicians. This excerpt stars two morose teenage girls performing an impromptu acoustic rendition of the classic folksong "House of the Rising Sun," whereupon they are interrupted by a drunk boy who tries to recruit them into his punk band. The sisters are played by real-life sisters Wren and Lilie Bytheway-Hoy.
The style of the piece is the same deadpan delivery of Rebecca's earlier shorts, which I reviewed here. As a "camera sketch," the piece looks beautiful. Set deep in the heart of a snowy woods, the location outwardly reflects the girls' chilly demeanor and sense of dread at the arrival of Ethan, who rudely disrupts their musical tranquility. This is a cold little sketch, visually and emotionally, and is a great set-up to entice viewers to watch the final film it will be a part of. I can't wait.
And if you like the below film, watch Rebecca's other shorts on YouTube.
From the Woods photo gallery: