Random Lunacy World Tour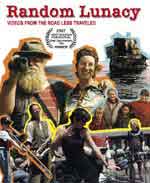 Random Lunacy: Videos From the Road Less Traveled, the documentary about professional homeless guy Poppa Neutrino and his family of wanderers that played last year at the New York, Chicago and Portland Underground Film Festivals, will be playing at three more festivals in the coming weeks. They are:
Mid-Valley Video Festival
Monday, Feb. 18 at 6:30 p.m.
Northern Lights Theatre Pub
Salem, OR
Big Muddy Film Festival
Saturday, Feb. 23 at 5:10 p.m.
Student Center Auditorium
Southern Illinois University
Carbondale, IL
Swansea Life Film Festival
May 31-June 7 (Exact time and date TBA)
Swansea Bay, UK
If you can make it to any of those, I highly recommend attending. I did review a DVD copy of the film, which is produced and directed by Stephanie Silber and Victor Zimet. Here's a snippet of what I said:
In a lot of ways, living the (seemingly) carefree life does sound appealing. Neutrino has lots of crazy adventures, has been all over the world and done some things hardly any other human has accomplished. Especially when you see just how happy and contented Neutrino is with his lifestyle choice, you start to think that the dude is really on to something. Seriously, he looks just like your average homeless person, except he seems to have retained all his marbles. I mean, the guy is smart, but it's really unbelievable just how happy he seems.
Read the whole review here. Poppa Neutrino is a real character and the film's a lot of fun. It's the kind of thing if you didn't see Neutrino's adventures happening live on video caught by his family, you wouldn't believe any of it actually happened.
For more info, please visit the film's official website.