Random Lunacy: The Southern Tour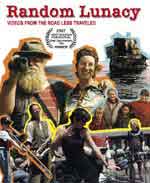 What's the best way to promote a documentary about the world's cheeriest homeless person who celebrates his rootlessness with a passion for adventure-taking? Why, you uproot yourself and take that film on the road! And that's exactly what directors Vic Zimet and Stephanie Silber are doing with their Random Lunacy: Videos From the Road Less Traveled.
After a highly successful festival run, Zimet and Silber are now going on a tour of the American south and screening Random Lunacy at locations from Mississippi to Louisiana throughout the month of March. The full list of all their stops is below.
The film is a chronicle of the life of Poppa Neutrino, a man who is homeless by choice and who prefers roaming the world to settling down anywhere for any period of time. Editing together years of home video, the film shows Neutrino on the road with his wife and children. Primarily these jaunts are back and forth across the U.S., but they also include stints where they operate a traveling circus across Mexico, a visit to Russia and a trip across the Atlantic on a homemade raft. The film also includes modern interviews with Neutrino, his wife Betsy and their surprisingly well-adjusted adult children.
I reviewed the film on the Underground Film Journal when it was making its rounds at fests such as the New York Underground and the Chicago Underground. It's since played a whole mess of festivals and screenings and I really encourage, if you live in the South, to check the film out especially with the filmmakers in attendance.
For those who can't make it — like me — you can follow Zimet and Silber's adventures on a blog they'll be keeping at the Southern Arts Federation website. Or, to find out more about the film, check out the official Random Lunacy website and/or it's Facebook page. Below is the full list of screening stops:
Monday
March 9
7:00 p.m.
Millsaps College
Jackson, MS
Tuesday
March 10
7:00 p.m.
Florida Community College at Jacksonville
Jacksonville, FL
Wednesday
March 11
7:00 p.m.
Kentucky Center for the Performing Arts
Louisville, KY
Thursday
March 12
7:00 p.m.
Western Carolina University
Cullowhee, NC
Friday
March 13
8:00 p.m.
Halsey Institute of Contemporary Art
Charleston, SC
Sunday
March 15
7:30 p.m.
The Imperial Theatre
Augusta, GA
Monday
March 16
6:00 p.m.
Nickelodeon Theatre
Columbia, SC
Tuesday
March 17
7:30 p.m.
Capri Theatre
Montgomery, AL
Thursday
March 19
7:00 p.m.
The Mobile Arts Council
Mobile, AL
Friday
March 20
7:00 p.m.
The Arts Council of Central Louisiana
Alexandria, LA
Watch the trailer: