Random Lunacy In NYC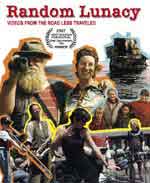 Random Lunacy, the documentary by Stephanie Silber and Vic Zimet about renegade homeless dude Poppa Neutrino, which is mostly composed of video footage taken by Neutrino's traveling musical family, is screening this Sunday in NYC. I reviewed it on the Underground Film Journal a couple months ago and thoroughly enjoyed it. As I said then: If you didn't see the actual adventures of the Neutrino family caught on video, then you wouldn't believe they actually happened. From running a circus in Mexico to sailing across the Atlantic in a ramshackle, handmade raft, what these people got into is totally insane.
The film will play at The Cell Theatre — details below. In addition to the film, both filmmakers will be in attendance for a Q&A session. Plus, there will be a wine and cheese reception after the screening. Before the screening, if you want to show up early, there will be music by Michael Sahl. And it's all free! Screw the Tribeca Film Festival, which is going on right now, and go see this if you're in NYC on Sunday.
Sunday, April 27
7:00 p.m.
The Cell Theatre
338 West 23rd Street
New York NY
Trailer: