Random Lunacy In NYC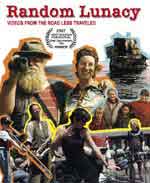 For us, it's always a special occasion when Stephanie Silber and Victor Zimet's Random Lunacy: Videos From the Road Less Traveled screens, which is why we always report on it. But in this case, the screening is extra special since the film's star, Poppa Neutrino and his Flying Neutrino family band will be performing after the film.
Furthermore, the Random Lunacy screening at NYC's The Cell Theatre this Sunday, Aug. 16 at 8:00 p.m. is a benefit to help raise money for the homeless. As Silber and Zimet say:
Last night in New York City, over 32,300 people, including children, slept in shelters and countless others on the streets. For Home Team Productions, this statistic was a call to arms.

Proceeds from the event will benefit Housing and Services, Inc. (HSI), a not-for-profit agency which provides permanent, supportive housing to those in need. That organization's mission statement puts it simply: "Everyone needs a home."

HSI's Acting Executive Director Jim Dill says, "We are dedicated to rebuilding lives and communities, one person at a time."
This sounds like a great event: Great film, great music performance afterwards and money raised goes to a great cause. If you live in NYC, this is the place to be on the 16th.
If for some insane reason, you need further convincing, go read the Underground Film Journal's original review of the film where we said: "Poppa Neutrino's zeal for life is infectious and while maybe a lifetime of wandering may be a little much, you think maybe hanging out with the guy for a couple of weeks might be a hoot." Too bad we're not in NYC to test our theory, even if we got to hang with Poppa for just a few hours.
For more info, you can visit the film's official website and watch the embedded trailer below. And here's the screening info one more time:
Aug. 16
8:00 p.m.
The Cell Theatre
338 West 23rd Street
(b/w 8th and 9th Aves.)
Watch the Random Lunacy movie trailer: