Quixote — Bruce Baillie
Quixote by Bruce Baillie. Originally finished — most likely — in 1965, but sources place year range 1964-1967.
In Visionary Film, P. Adams Sitney says the film was "revised" in 1967; while in his "Movie Journal" column, Jonas Mekas wrote that the "final version" of Quixote was screened in New York City in 1968. An article in the Film Culture triple issue 67-68-69 also makes the claims that the film was "finished" (year not given), then revised in 1967; with the final version finally reaching NYC in 1968.
A newspaper article from 1965 claims that Quixote would make its World Premiere at the Gate Theater in Sausalito, California on November 26, 1965.
The version of Quixote embedded above comes via Bruce Baillie's own YouTube account; and, according to some new end credits, is a digital remastering of the original.
In the book Canyon Cinema, author Scott MacDonald reprints a letter written by Baillie published in the May 1965 issue of Canyon Cinema's Cinemanews newsletter in which Baillie discusses the filming of Quixote. He writes about traveling through Nevada; Montana; Alberta, Canada; South Dakota; Michigan; and New York. Baillie also notes that the music by the Falcon Quartette heard in the film was recorded in Ann Arbor; and that he flew to Alabama to film the now legendary civil rights march after viewing the conflict at Selma on television. Baillie concludes the letter by announcing that he refuses to call the film Quixote anymore and will not name it anything. A letter written many decades later, in 1994, Baillie claimed that "the first leg" of filming Quixote was financed by a woman named Tseng Ching. This may be the "Lillian Tseng" noted in the credits (see below).
The cross-country trip that Baillie references in his letter to Cinemanews took place over the course of a year, 1964-65, according to the Film Culture triple issue 67-68-69.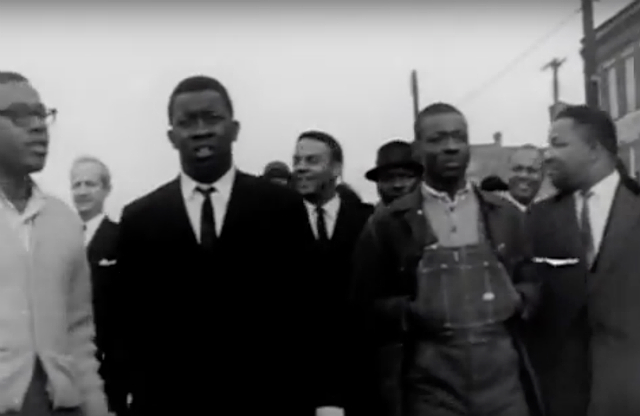 In 1970, Mekas wrote in his "Movie Journal" that he had seen Quixote twenty times by then and considered that the film had "firmly established itself as one of the few important epic works of the decade."
In 1972, the third edition of the Canyon Cinema Cooperative Catalog gives this description of the film:
Revised printing (summer, '67). Several scene deletions, clarification of some multiple imaging sections, entirely reworked final section (NYC-Viet War).

America, el conquistador.

"Climaxing the filmmaker's first period of work, QUIXOTE is a kind of summary and conclusion of a number of themes, etc., especially that of the hero … depicting Western orientation as essentially one of conquest. The film is conceived in a number of different styles and on a number of simultaneous levels." –B.B.
Despite Baillie once claiming that the film would have no name, it does have an opening title card of QUIXOTE in type-written letters drifting across the screen.
The film ends with the dedication card: FOR MY FATHER, E. KENNETH BAILLIE. This is followed by end credits that read:
Thanks to – Archie Jewel Cradick, Deming, New Mexico
Willy Scapingwhite
Joe Gamble, Blood Indian Reservation, Cardston, Alberta, Canada
Lillian
Ms. Dog
And many good friends
---
Sound
Charles Ives
Ramon Sender
Bill McGinnes,
San Francisco Tape Music Center
The Falcon Quartette,
Ann Arbor, Michigan
The Las Palmas Cafe Band,
Las Palmas, Chihuahua, Mexico
Acoma Song by Natai (Navajo),
Acoma Pueblo, New Mexico
Apache Mountain Spirit Dance
by C. Hoffman, San Carlos, New Mexico
---
Contributors –
Lillian Tseng
Sue Netzorg
Mr & Mrs E.K. Baillie
Gene Gordon
Audio Film Center
Sybil Moholy-Nagy
Myself
Ann Arbor Dramatic Arts Center
David Spellman
Ben Yehuda
Micheal Cuddihy
Art Brandenburg
Friends of New Cinema, Inc.
Mr. & Mrs. Wallace Lee
Early & Mary Ann Bodien
Carol Watanabe
Paul & Eloie Cacavas
Laurence & Jone Perkins
Joan McIntyre
Marty Uhlmann
Mr. & Mrs. Gene Dawson
John & Sylvia Sutherland
Mr. & Mrs. Wm, Spellman
George & Betty Manupelli
Mel Someroski
Mr. & Mrs. Alvin Fiering
Ken & Flo Jacobs
Jack Berggren
Peter & Abigail Spellman
Paul & Nancy Tulley
---
The last thing on-screen from the original film is Bruce Baillie's signature. Added to the digital version is credits thanking the remastering team:
LucasFilm
John Carlson, Monaco Labs Inc, San Francisco
Robert Haller, Anthology Film Archives, New York
Jon Shibata, Pacific Film Archives, UC Berkeley
Patrick Donicht Sound Camano Island
Canyon Cinema
Jack Gunter, Camano Island
Ian Vollmer, New York
Printwise Inc, Mount Vernon, Wa.