Ben Russell: Punk Rock Is Our New Religion
Teenagers whip themselves up into a religious-like trance fervor in this excerpt from Ben Russell's Black and White Trypps Number Three. No, the actual video is not in black & white. In muted, dirty, sweaty psychedelic color, a mosh pit bangs it's collective head and soul in tune — if the word "tune" can be used here — with the noise band Lightning Bolt.
Actually, do the kids these days use the term "mosh pit" anymore? Or am I showing my age? Anyway, this video makes me personally nostalgic for my younger days, but it's also quite interesting to watch as a modern artifact.
The video has a plot of sorts, if you consider a "plot" to be the following of characters. Several of the kids pop into and out of the video, which Russell has filmed with a very tightly confined circle, as if a single flashlight is being set on a perfectly dark auditorium. But, it's fun to see who pops into and out of the circular frame, when they do and at which point.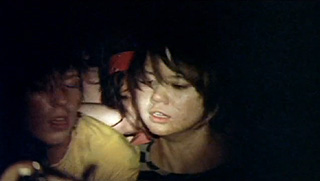 It's also fun to watch the kids get into the music. They know they are being filmed, so are some of them putting on a bit of a show for the camera? I was questioning a bit their sincerity watching the video a second time, but then there's the point in the video where the music totally stops — and the kids stop moving, too! Then, the music kicks up again and they're right back at their moshing … or whatever they call it these days.
Russell's Trypps is a series that deals with "naturally-derived psychedelia." So far, there are six in the series. I've seen two. Number Three that is embedded above and also Number Six, which also has an excerpt online that I highly recommend watching. Both films share a similar conceit: They're just one long documentary take. In both films, the subjects being documented are very, very different, yet share some surprising similarities in ritual and performance.
One last thing: The full version of Black and White Trypps Number Three won the Best Experimental Award at the 2007 Chicago Underground Film Festival.
If you want to find out more about Ben Russell, please visit his official website.