Proxima Nominated For Best Film!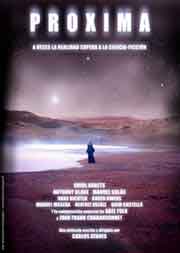 So, I've been banging the Proxima drum like a maniac for several months now and it seems like other folks are finally catching up to what a great film it is.
Director Carlos Atanes proudly sent out the news today that his second feature film has been nominated for Best Film by Spain's illustrious Ignotus Awards!
Ok, not being up on my Spanish science fiction, Atanes has helpfully informed me that the Ignotus is the equivalent of the American Hugo Awards, which I'm certainly familiar with as it's the premier sci-fi and fantasy award given out every year in the U.S. Like the Hugos, Ignotus Awards are given out for several different artforms, including novels, short stories, films, illustrations, poetry and more. For the full list of 2008 nominees, you can visit this page in the original Spanish, or the fun Babel Fish translated version.
Proxima is in some really great company, too. Also nominated in the film category is the horror flick The Orphanage, dir. Juan Antonio Bayona. I finally watched The Orphanage on On Demand the other day and I have to say I enjoyed it a lot, but Proxima is better.
Also nominated is REC, dis. Jaume Balagueró and Paco Plaza. REC hasn't been released in the U.S., but it's had a strong Internet buzz over the past year. An Americanized remake called Quarantine, directed by The Poughkeepsie Tapes' John Erick Dowdle and starring Dexter's Jennifer Carpenter and Hostel's Jay Hernandez is coming out this October.
The other two films nominated, Cazador de mentiras, dir. David Jasso, and Hispacón 2006, dir. Ramón Castillo, I'm not familiar with at all. But, I wish Atanes the best of luck. I really hope he wins. It's a remarkable film and, best of all, it's available on DVD!
The Ignotus Awards will be given out during the last week of September.