Proxima Available On IndieFlix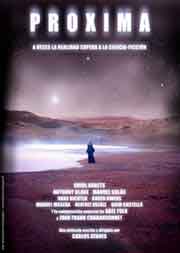 Proxima, the second feature film from Spanish underground filmmaker Carlos Atanes that I've been championing on this site since giving it a rave review earlier this year, is now available for download on IndieFlix.
Atanes comes from a heavily surrealist background, but Proxima is probably his most accessible work. It's a sci-fi drama in the vein of Philip K. Dick in which a total slacker gets caught up in an alien conspiracy that may or may not be really happening. It also has a terrific lead performance by Oriol Aubets whom you're really rooting for that he actually makes contact with extraterrestrials since everybody else in his life has given up on him. The film has a very easygoing nature that gets pretty wild the deeper Aubets gets into the conspiracy. Atanes also gets pretty creative with his fantastic special effects done on a low budget.
Look, I could rave about this film all day and all night long. It's previously been available in a Special Edition DVD with all kinds of bonus features, but now at IndieFlix you can just download the film straight.
Once again, here's the trailer for this awesome flick: