Premiere Photos: Christopher Folino's Sparks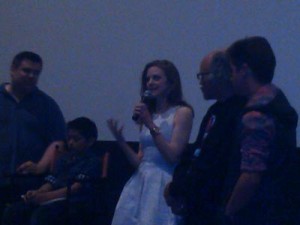 Sparks is a phenomenal new period superhero movie co-directed by Christopher Folino and Todd Burrows. It stars Chase Williamson as the title hero, Ashley Bell, Clancy Brown, Jake Busey, William Katt and Clint Howard. It is currently playing in limited theatrical release — and is well worth seeing in the theater — and streaming on iTunes.
The Underground Film Journal's Executive Editor, Mike Everleth, attended a special screening on March 16 during the movie's opening weekend, at which filmmaker Folino and stars Bell, Katt and Howard were in attendance. The photo above and those in the gallery below were all taken at this event.
Folino previously solo directed the award-winning indie comedy Gamers, which the Journal was a fan and supporter of back in the day. (Gamers is also currently streaming on Amazon.)
As enjoyable as Gamers is, Sparks is a tremendous leap in content, style and execution. Based on the graphic novel created by William Katt and written by Folino, Sparks is an extremely ambitious period film that plays like a cross between Double Indemnity and Watchmen.
The story spans from the early 20th century through the mid-1940s and follows the saga of Ian Sparks (Chase Williamson), an orphaned boy who becomes an amateur superhero. After moving to the big city, Sparks teams up with the gorgeous Lady Heavenly (Ashley Bell) and falls into a complex conspiracy involving a rogue police officer, Archer (Clancy Brown); a brutal hero named Sledge (Jake Busey); a deranged serial killer (William Katt); and several other "supers" with questionable motives and morals.
Williamson does a bang-up job in the lead role's descent from wide-eyed, naive do-gooder to bitter and jaded accused murderer. As Sparks's love interest, Ashley Bell also delivers a performance that switches from kick-ass to tender, sometimes in the same scene. And both are well supported by their co-stars Brown, Busey, Katt and Howard; as well as actors Larry Cedar, Marina Squerciati and more.
Please click any of the images below to launch the Sparks premiere photo gallery: