Poster: Cassandra Peterson In All About Evil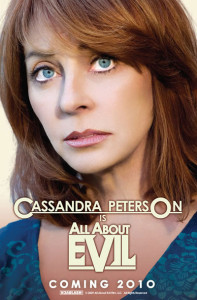 Filmmaker Joshua Grannell has released a new poster promoting his upcoming feature film, All About Evil. The poster features actress Cassandra Peterson, who, if she looks familiar, but you can't quite place her, just imagine her wearing a giant Elvira wig because, well, she's Elvira. Click the image above for a much bigger version. She looks quite lovely in her "civilian" guise.
All About Evil is a horror comedy about a nerdy librarian who unleashes her inner serial killer when she starts directing a series of grisly short horror movies in which all the killings are real. The film stars Natasha Lyonne as the murderess and the cast also includes Cassandra Peterson, Thomas Dekker, Julie Caitlin Brown and Patrick Bristow.
Also appearing in the film will be Mink Stole, veteran actress of so many John Waters films. Plus, notorious drag queen Peaches Christ will also be in the film. Peaches, of course, is director Grannell's own performing alter ego.
The film should be debuting his spring and a trailer should be online soon, which I'll put up on the Underground Film Journal when it's available.
Lastly, Grannell used to run the annual San Francisco Underground Short Film Festival, which he discontinued so he could focus on this film and other projects.