2006 Portland Underground Film Festival: June 8-11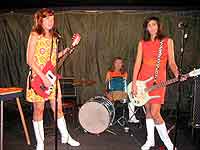 After I snarkily assaulted the Portland Underground Film Festival for an out of date website, they've gotten their revenge on me by posting their full lineup over a month beforehand. Looks like a doozy, too. Hope the fine residents of Portland will be properly recovered by June from the earth-shattering PDX Film Fest held there last week to attend.
They're showing mostly features, and here's the rundown:
June 8:
1) Let Them Eat Rock, dir. Rodman Flender — A documentary on the 18th century punk band who rocked the 20th century, The Upper Crust.
June 9:
1) Stomp! Shout! Scream!, dir. Jay Edwards — A parody of '60s beach party and monster movies. Official site.
2) The Coat Room, dir. Jason F. Gilbert — A slacker takes a job in the coat room of the Philadelphia Museum of Art and falls for his bitter, sarcastic and thieving co-worker.
June 10:
1) Jerkbeast, dir. Brady Hall & Calvin Lee Reeder — The story of the worst band in the world. Official site.
2) Hollow Ground, dir. Sean DelGatto — An Evil Dead-ish horror film about teenagers trapped in a remote cabin.
3) Zombie Christ, dir. Andrew Whitwell Larrison — What if when Jesus rose from the grave, he was a flesh-eating zombie that had to be killed by Mary Magdelene?
4) Mad Cowgirl, dir. Gregory Hatanaka — A tale of mad cow disease, kung fu, and co-starring Star Trek's Walter Koenig. Official site. Also played at the Calgary Underground Film Festival and other fests. (Watch Online)
June 11:
1) Jack Hanke's Disaster, dir. Jack Gibson — The pets of Georgetown, TX sense the arrival of UFO's.
2) Tribute to James Westby, dir. James Westby — Inept wanna-be killers botch a hit-and-run accident.
3) 4 O'Clock, dir. Robert Flanagan — A stewardess resorts to kidnapping to get out of her dead end job. Official site.
Plus, a repeat of the fest's best film, a shorts program and biking madness.